Senegalia visco
Fabaceae
Classification of the genus Acacia (in the wider sense) has been subject to considerable debate. It is generally agreed that there are valid reasons for breaking it up into several distinct genera, but there has been disagreement over the way this should be done. As of 2017, it is widely (but not completely) accepted that the section that includes the majority of the Australian species should retain the name Acacia, whilst other sections of the genus should be transferred to other genera. This species is transferred to Senegalia[
Acacia platensis Manganaro
Acacia polyphylla Clos
Acacia visco Lorentz ex Griseb.
Acacia visite Griseb.
Lysiloma polyphyllum Benth.
Manganaroa platensis (Manganaro) Speg.
Manganaroa subsericea Speg.
Common Name: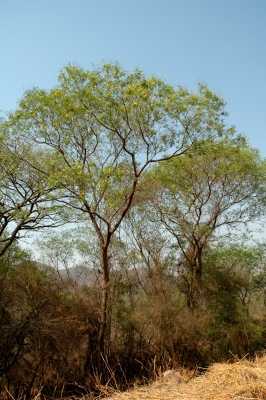 Trees growing in native habitat
Photograph by: Valerio Pillar


Flowers and ripening seedpods
Photograph by: Dick Culbert


Flowering branches
Photograph by: Valerio Pillar

General Information
Acacia visco is a tree growing about 10 metres tall. The bole can be about 50cm in diameter[
The wood is of excellent quality but only available in small quantities and so only utilized locally. The plant is cultivated as an ornamental[
In Bolivia it is present in areas which are subject to intense grazing by goats, sheep and cattle. The plant is classified as 'Least Concern' in the IUCN Red List of Threatened Species(2011)[
Known Hazards
Especially in times of drought, many Acacia species can concentrate high levels of the toxin Hydrogen cyanide in their foliage, making them dangerous for herbivores to eat.
Botanical References
Range
S. America - Chile, northern Argentina, Bolivia.
Habitat
Deciduous forest, woodland and scrub[
Properties
| | |
| --- | --- |
| Conservation Status | Least Concern |
| Other Uses Rating | |
| Habit | Tree |
| Height | 8.00 m |
| Pollinators | Bees |
| Cultivation Status | Ornamental, Wild |
Cultivation Details
A plant of drier regions in the subtropics and tropics, usually found at elevations above 1,000 metres in tropical areas.
This species has a symbiotic relationship with certain soil bacteria, these bacteria form nodules on the roots and fix atmospheric nitrogen. Some of this nitrogen is utilized by the growing plant but some can also be used by other plants growing nearby[
Edible Uses
None known
Medicinal
The bark of all Acacia species contains greater or lesser quantities of tannins and are astringent. Astringents are often used medicinally - taken internally, for example. they are used in the treatment of diarrhoea and dysentery, and can also be helpful in cases of internal bleeding. Applied externally, often as a wash, they are used to treat wounds and other skin problems, haemorrhoids, perspiring feet, some eye problems, as a mouth wash etc[
Many Acacia trees also yield greater or lesser quantities of a gum from the trunk and stems. This is sometimes taken internally in the treatment of diarrhoea and haemorrhoids[
Other Uses
The yellowish wood is attractively marked with dark veins. The wood is compact, very elastic, resistant, hard, not very heavy, very durable[
Propagation
The seed of most, if not all, members of this genus has a hard seedcoat and may benefit from scarification before sowing to speed up germination. This can usually be done by pouring a small amount of nearly boiling water on the seeds (being careful not to cook them!) and then soaking them for 12 - 24 hours in warm water. By this time they should have imbibed moisture and swollen - if they have not, then carefully make a nick in the seedcoat (being careful not to damage the embryo) and soak for a further 12 hours before sowing.
If you have any useful information about this plant, please leave a comment. Comments have to be approved before they are shown here.