Dysoxylum arborescens
Meliaceae
Aglaia halmaheirae Miq.
Aglaia macrophylla Teijsm. & Binn.
Alliaria arborescens Kuntze
Alliaria halmaheirae Kuntze
Alliaria kunthiana Kuntze
Alliaria maingayi Kuntze
Alliaria nernstii Kuntze
Dysoxylum forsythianum Warb.
Dysoxylum gjellerupii C.DC.
Dysoxylum halmaheirae (Miq.) C.DC.
Dysoxylum insulare Pierre
Dysoxylum kunthianum (A.Juss.) Miq.
Dysoxylum maingayi Hiern
Dysoxylum nernstii F.Muell.
Dysoxylum novohebridanum C.DC.
Dysoxylum rubrum Merr.
Dysoxylum sibuyanense Elmer
Epicharis kunthiana A.Juss.
Goniocheton arborescens Blume
Goniocheton insularis Pierre
Hartighsea acuminata Miq.
Hartighsea sumatrana Miq.
Trichilia arborescens (Blume) Spreng.
Common Name: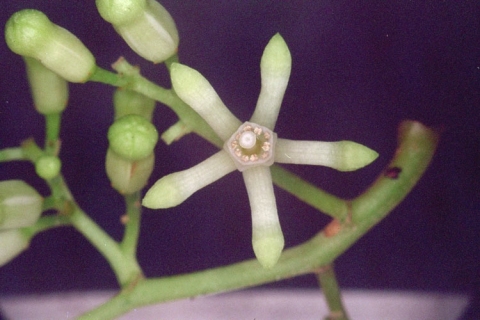 Close-up of the flower
Photograph by: Jago B.; Australian National Botanic Gardens


Close-up of the fruit
Photograph by: Australian National Botanic Gardens


Drawing of the leaves and fruit (Fig B, right hand side of page only)
Photograph by: Pierre, L., Flore forestiere de la Cochinchine, vol. 4: t. 347, fig. B (1880-1907) [E. Delpy]

General Information
Dysoxylum arborescens is a tree that usually grows up to 20 metres tall, though usually less, and can occasionally reach up to 30 metres. The bole can be up to 45cm in diameter, fluted or with buttresses up to 100cm high and 45cm outwards[
The tree is the source of a good quality timber, known as 'jarum-jarum' in southeast Asia, that is harvested from the wild for local use and for trade[
Known Hazards
None known
Botanical References
Range
E. Asia - Taiwan, Andaman and Nicobar Islands, Malaysia, Indonesia to New Guinea, northeast Australia, Solomon Islands and Vanuatu.
Habitat
A very common tree of dense primary forests and also the more open secondary growth areas, including that on limestone; at elevations up to 1,500 metres[
Properties
| | |
| --- | --- |
| Other Uses Rating | |
| Habit | Tree |
| Height | 15.00 m |
| Cultivation Status | Wild |
Cultivation Details
Plants can commence flowering when around 1 metre tall[
Most species in this genus are dioecious, but this species generally has bisexual flowers[
Edible Uses
None known
Medicinal
None known
Other Uses
The sapwood is fawnish. The wood is suitable for medium to heavy construction work, planking, flooring, panelling, and for manufacturing high grade furniture, wood pallets, veneer and plywood[
We have no more specific information on the wood of this species, but it is one of a group of species that are the source of a commercial timber known in the trade as 'jarum-jarum'. The general description of jarum-jarum is as follows:-
The heartwood is orange-red to brick red when fresh,darkening on exposure; it is clearly demarcated from the yellow sapwood. The texture is moderately coarse but uneven due to the abundant of parenchyma; the grain is straight, interlocked, wavy or irregular; there is a watersilk marking on flat-sawn surfaces due to the parenchyma bands. The wood is moderately hard to hard. It is used for purposes such as flooring, furniture, wall panelling, solid door construction, veneer and plywood[
Propagation
Seed -
If you have any useful information about this plant, please leave a comment. Comments have to be approved before they are shown here.