Caesalpinia major
Fabaceae
This name is not universally accepted. Caesalpinia major is treated as a synonym of Caesalpinia globulorum Bakh.f. & P.Royen in some treatments.
In a recent revision of the genus (Edeline Gagnon et al; A new generic system for the pantropical Caesalpinia group (Leguminosae) PhytoKeys 71: 1-160; 2016), it has been proposed that this species be renamed Guilandina major (DC.) Small. It is almost certain that this change will come about, but we are awaiting an authorative revision of the genus Guilandina before moving this species[
Bonduc majus Medik.
Caesalpinia broomensis Hochr.
Guilandina major (DC.) Small
Guilandina ovalifolia (Urb.) Britton
Common Name: Mato Amarillo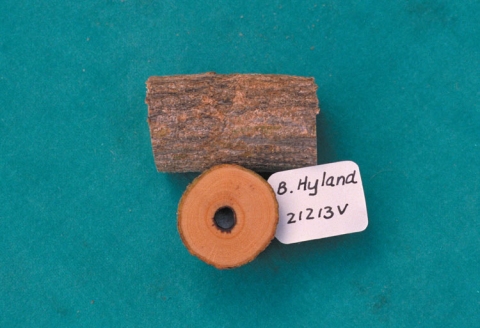 The stem and its cross-section
Photograph by: Australian National Botanic Gardens


Ripening seedpods
Photograph by: Homer Edward Price

General Information
Caesalpinia major is a spiny, climbing shrub producing woody stems up to 15 metres long and 4cm in diameter[
The plant is harvested from the wild for local use as a medicine.
Known Hazards
None known
Botanical References
Range
S. America - Guyana; C. America - Belize, Guatemala; Caribbean to SE N. America (Florida); Madagascar, India, Sri Lanka to Philippines, New Guinea
Habitat
Found in a variety of coastal habitats, thickets and disturbed places, as well as in primary forest, at elevations up to 1,000 metres, exceptionally to 1,400 metres[
Properties
| | |
| --- | --- |
| Medicinal Rating | |
| Habit | Climber |
| Height | 12.00 m |
| Pollinators | Insects |
| Cultivation Status | Wild |
Cultivation Details
Not known
Edible Uses
None known
Medicinal
The roots are anthelmintic and tonic A decoction is drunk to rid the body of parasites, and also in the treatment of rheumatism and backache[
The roasted and ground seeds are drunk as a kind of coffee to cure respiratory illnesses[
The gray seeds are used in the treatment of diarrhea. Three of the seeds are cracked and boiled with three young fruits of lada (Morinda citrifolia) and three plants of maigo lalo (Phyllanthus amarus). The resultant tea is very bitter and is taken internally[
Other Uses
None known
Propagation
Like many species within the family Fabaceae, once they have ripened and dried the seeds of this species may benefit from scarification before sowing in order to speed up and improve germination. This can usually be done by pouring a small amount of nearly boiling water on the seeds (being careful not to cook them!) and then soaking them for 12 - 24 hours in warm water. By this time they should have imbibed moisture and swollen - if they have not, then carefully make a nick in the seedcoat (being careful not to damage the embryo) and soak for a further 12 hours before sowing[
If you have any useful information about this plant, please leave a comment. Comments have to be approved before they are shown here.