Crinum latifolium
Amaryllidaceae
Amaryllis insignis Ker Gawl.
Amaryllis littoralis Salisb.
Amaryllis moluccana Ker Gawl.
Crinum cochinchinense M.Roem.
Crinum esquirolii H.Lév.
Crinum insigne (Ker Gawl.) Sweet
Crinum jemenicum Dammann
Crinum jemense Dammann
Crinum longistylum Herb. ex Steud.
Crinum moluccanum Roxb. ex Ker Gawl.
Crinum ornatum acutior Herb.
Crinum ornatum careyanum (Herb.) Herb.
Crinum ornatum insigne (Ker Gawl.) Herb.
Crinum ornatum latifolium (L.) Herb.
Crinum ornatum longistylum Herb.
Crinum ornatum moluccanum (Roxb. ex Ker Gawl.) Herb.
Crinum ornatum speciosum Herb.
Crinum speciosum Herb.
Common Name: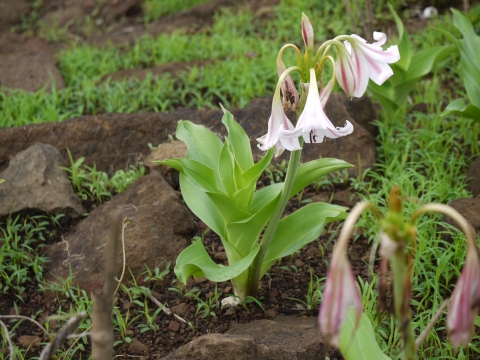 Flowering plant
Photograph by: Dinesh Valke


Close-up of the flowers
Photograph by: Jayesh Patil

General Information
Crinum latifolium is a perennial plant growing up to 150cm tall. Growing from a bulb 8 - 15 cm in diameter, it produces 12 - 20 oblong-linear leaves 60 - 120cm long and 4 - 7cm wide[
The plant is harvested from the wild for local medicinal use. It is grown as an ornamental, valued especially for its sweetly fragrant flowers[
Known Hazards
None known
Botanical References
Range
E. Asia - southern China, India, Sri Lanka, Bangladesh, Myanmar, Thailand, Laos, Vietnam
Habitat
Dry river beds and sandy soils[
Properties
| | |
| --- | --- |
| Weed Potential | Yes |
| Medicinal Rating | |
| Habit | Bulb |
| Height | 1.00 m |
| Cultivation Status | Ornamental, Wild |
Cultivation Details
Succeeds in full sun or partial shade, requiring a well-drained soil[
The plant sometimes escapes from cultivation[
Bulbs are sensitive to transplanting and can take several years to become established. After this, they will usually reproduce rapidly from offsets to produce the overcrowded conditions that stimulate them to flower freely[
The flowers open at night and last for just one day.
Edible Uses
None known
Medicinal
The bulbs are extremely acrid and only used externally. In India, when roasted, they are used as a rubefacient in the treatment of rheumatism, or are crushed on piles and abscesses to cause suppuration[
The juice of the leaves is used in the treatment of earache[
Other Uses
None known
Propagation
Seed - best sown as soon as it is ripe, placing 2 - 3 seeds in individual pots. Do not cover the seed. Once they have germinated, you can thin each pot to just one plant if required, though we have not found this to be necessary. Give an occasional liquid feed to ensure that the plants do not suffer nutritional deficiencies. Grow them on until large enough to plant out.
Division of offsets when the plant is dormant.
If you have any useful information about this plant, please leave a comment. Comments have to be approved before they are shown here.