Xanthosoma striatipes
Araceae
Acontias striatipes Schott
Caladium striatipes (K.Koch & C.D.Bouché) Schott
Philodendron striatipes K.Koch & C.D.Bouché
Common Name: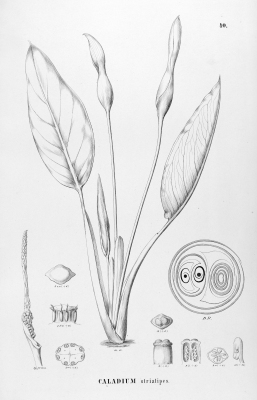 Drawing of the growing plant
Photograph by: Martius, C., Eichler, A.G., Urban, I., Flora Brasiliensis, vol. 3(2): fasicle 76, t. 40 (1878) [Meggendorfer]


Drawing of the growing plant, root and flowers (Fig B - H only)
Photograph by: Engler, H.G.A., Das Pflanzenreich, Araceae - Colocasioideae, vol. 23: [Heft 71], p. 27, fig. 8 A (1920) [J. Pohl]

General Information
Xanthosoma striatipes is a perennial plant.
The corms and spadix are sometimes harvested from the wild for local use as a food, and the plant is also occasionally cultivated for this purpose[
Known Hazards
All parts of the plant contain calcium oxalate crystals. This substance is toxic fresh and, if eaten, makes the mouth, tongue and throat feel as if hundreds of small needles are digging in to them. However, calcium oxalate is easily broken down either by thoroughly cooking the plant or by fully drying it and, in either of these states, it is safe to eat the plant. People with a tendency to rheumatism, arthritis, gout, kidney stones and hyperacidity should take especial caution if including this plant in their diet[
Botanical References
Range
S. America - Paraguay, Brazil, Bolivia, Colombia, Venezuela and the Guyanas.
Habitat
Seasonal wet places at the edges of forests.
Properties
| | |
| --- | --- |
| Edibility Rating | |
| Habit | Perennial |
| Height | 0.00 m |
| Cultivation Status | Cultivated, Wild |
Cultivation Details
Like many species in the family Araceae, this plant has the ability to heat the flowering spadix as the pollen becomes ready for fertilization. This heat greatly increases the strength of the aroma released by the plant, thus attracting more pollinating insects. It can also have the effect of making the insects more active, thus increasing the level of fertilization[
Edible Uses
Tubers[
Spadix[
Medicinal
None known
Other Uses
None known
Propagation
Seed -
If you have any useful information about this plant, please leave a comment. Comments have to be approved before they are shown here.