Volkameria aculeata
Lamiaceae
This name is not universally accepted, with some authorities preferring to use the name Clerodendrum aculeatum (L.) Schltdl.[
Clerodendrum aculeatum (L.) Schltdl.
Clerodendrum angustifolium (Poir.) Spreng.
Clerodendrum duckei Moldenke
Clerodendrum linifolium (Ewart & B.Rees) de Kok
Clerodendrum ternifolium Kunth
Huxleya linifolia Ewart & B.Rees
Ovieda aculeata (L.) Baill.
Volkameria angustifolia Poir.
Volkameria linifolia (Ewart & B.Rees) Mabb. & Y.W.Yuan
Common Name: Prickly Myrtle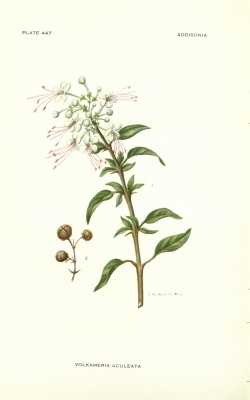 General Information
Volkameria aculeata is an evergreen, sprawling shrub with small spines in the leaf axils. It can grow up to 3 metres tall[
The plant is harvested from the wild for local use as a medicine. An ornamental plant, it can be grown to make a good barrier hedge.
Volkameria aculeata is very widespread across Tropical America and the Caribbean. However, it is a predominantly coastal species and as such is subject to habitat loss and fragmentation across much of its range .The plant is classified as 'Least Concern' in the IUCN Red List of Threatened Species(2015)[
Known Hazards
None known
Botanical References
Range
S. America - northern Brazil, Ecuador, Colombia, Venezuela, the Guyanas; C. America - Honduras, southern Mexico; Caribbean - Trinidad to the Bahamas.
Habitat
Limestone rocks, sand dunes and gravelly wastes, mostly near the sea but also ascending to 250 metres[
Properties
| | |
| --- | --- |
| Conservation Status | Least Concern |
| Medicinal Rating | |
| Other Uses Rating | |
| Habit | Evergreen Shrub |
| Height | 1.50 m |
| Pollinators | Insects |
| Cultivation Status | Ornamental, Wild |
Cultivation Details
An easily grown plant, succeeding in full sun to moderate shade in most, moderately moist, well-drained soils[
Edible Uses
None known
Medicinal
An infusion of the leaves is said to be an effective febrifuge[
Agroforestry Uses:
The plant has a spreading habit but can be pruned to shape and, with its small spines and dense growth, it makes a good barrier hedge[
Other Uses
None known
Propagation
Seed -
Softwood cuttings
Cuttings of half-ripe wood
Root cuttings
Division of suckers
If you have any useful information about this plant, please leave a comment. Comments have to be approved before they are shown here.