Vatica rassak
Dipterocarpaceae
Retinodendron moluccanum Heim
Retinodendron rassak Korth.
Vateria papuana Dyer ex Hemsl.
Vateria rassak Korth.
Vatica moluccana Burck
Vatica papuana Dyer
Vatica schumanniana Gilg
Common Name: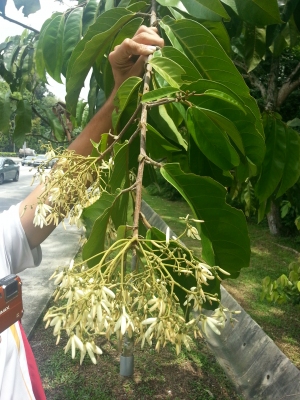 Flowering stem
Photograph by: Reuben C. J. Lim


Inflorescence
Photograph by: Reuben C. J. Lim


Trunk
Photograph by: Aber TREC

General Information
Vatica rassak is a tree
The tree is harvested from the wild for local use of its timber and resin. The resin is sometimes exported to Europe[
The plant is classified as 'Least Concern' in the IUCN Red List of Threatened Species(2011)[
Known Hazards
None known
Botanical References
Range
Southeast Asia - Indonesia, Philippines, Papua New Guinea.
Habitat
An understorey tree in lowland forests, growing along riverbanks and on hills, at elevations up to 400 metres[
Properties
| | |
| --- | --- |
| Conservation Status | Least Concern |
| Other Uses Rating | |
| Habit | Tree |
| Height | 0.00 m |
| Cultivation Status | Wild |
Cultivation Details
A plant of moist tropical lowlands.
Edible Uses
None known
Medicinal
None known
Other Uses
A resin known as 'Damar Hiroe' is obtained from the dead stems[
A resin known as 'Rose Dammar' is obtained from the plant[
Dammar is a hard resin, obtained from various trees of Southeast Asia. Traditionally, it is used for purposes such as caulking boats and baskets, as an adhesive, a medicine, as a fuel for torches and sometimes in foods. Dammar has many commercial applications, though many of these uses are less important nowadays due to the advent of synthetic materials. Commercially, it is an ingredient of inks, lacquers, oil paints, varnishes etc, and is used as a glazing agent in foods[
Harvesting of the resin commences when the bole is around 25cm in diameter (approx 20 years old). Triangular cuts (becoming circular with age) are arranged in vertical rows around the trunk. The cuts are several centimetres wide at first, but become enlarged at every tapping and eventually become holes of 15 - 20cm in depth and width. The average number of holes for a tree about 30 metres tall and 60 - 80cm in diameter is 9 - 11 in each of 4 - 5 vertical rows. For the higher holes, the tapper climbs the tree supported by a rattan belt and using the lower holes as footholds.
The exuded resin is allowed to dry on the tree before it is collected. The frequency with which the tree is visited to refreshen the cut varies from once a week to once a month, depending on how far the tree is from the village. Tapping can continue for 30 years[
The wood is hard, somewhat durable. It is used locally for house posts and other minor construction[
We have no more information on the wood of this species. However, the following is a general description of the wood for members of this genus;-
The heartwood is yellowish when fresh, turning light to deep red-brown upon exposure; it is generally not sharply demarcated from the lighter coloured sapwood. The texture is rather fine and even; the grain straight or shallowly interlocked; not lustrous; there is no distinctive taste or odour when dry. The heartwood, particularly that of the denser species, is rated as durable to very durable; with a good resistance to termites. It is generally reported to air season slowly, but with some warp and checking. Philippine species are reported to dry well with little degrade. The wood is said to be difficult to saw because of clogging due to gummy resins, otherwise it machines well to a smooth finish; turns well. The wood is used for purposes such as turnery, heavy construction, mining timbers, railroad crossties, boat construction; it is also suggested for flooring, interior joinery, and cabinetwork[
Propagation
Seed -
If you have any useful information about this plant, please leave a comment. Comments have to be approved before they are shown here.