Trifolium amabile
Fabaceae
Lupinaster amabilis (Kunth) C.Presl
Trifolium bolivianum P.B.Kenn.
Trifolium chiclense Ball
Trifolium cognatum House
Trifolium goniocarpum Lojac.
Trifolium hemsleyi Lojac.
Trifolium humboldtii Spreng
Trifolium lozani House
Trifolium macrorrhizum Ulbr.
Trifolium mathewsii A.Gray
Trifolium mexicanum Hemsl.
Trifolium nelsonii House
Trifolium pauciflorum Willd. ex Steud.
Trifolium peruvianum Vogel
Trifolium reflexum Cham. & Schltdl.
Trifolium schiedeanum S.Watson
Trifolium titicacense A.W.Hill ex D.Heller & Zohary
Trifolium weberbaueri Ulbr.
Common Name: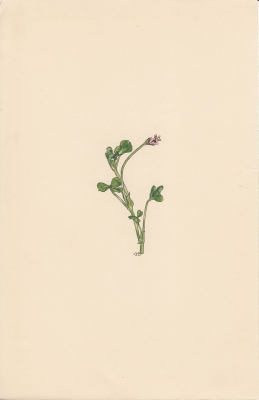 Drawing of the leaves and flowers
Photograph by: Barnas-Pomeroy, M., Barnas, C.F.J., Wildflowers and landscapes of Ecuador - The way we knew it, fasicle App., t. 65 (2014) [M. Barnas-Pomeroy]


Drawing of the flowering plant
Photograph by: Humboldt, F.H.A. von, Bonpland, A., Kunth, K.S., Nova genera et species plantarum, vol. 6: t. 593 (1823) [P.J.F. Turpin]

General Information
Trifolium amabile is a clump-forming, herbaceous perennial, usually with a thick, deep taproot, with stems growing up to 40cm tall[
The plant is sometimes gathered from the wild and consumed locally as a food when fasting.
This species has a wide distribution across tropical South America. The population is believed to be stable and there are no real threats at present. The plant is classified as 'Least Concern' in the IUCN Red List of Threatened Species(2013)[
Known Hazards
None known
Botanical References
Range
S. America - Argentina, Chile, Bolivia, Peru, Colombia, Ecuador; Central America - Costa Rica, Guatemala, Mexico to southern N. America.
Habitat
Mostly in moist mountain meadows, often in pine-oak forest, frequent on exposed banks, at elevations from 1,600 - 3,400 metres[
Properties
| | |
| --- | --- |
| Conservation Status | Least Concern |
| Edibility Rating | |
| Habit | Perennial |
| Height | 0.40 m |
| Cultivation Status | Wild |
Cultivation Details
A plant of higher elevations in the tropics.
The plant grows in the wild on moist, sandy soils[
This species has a symbiotic relationship with certain soil bacteria, these bacteria form nodules on the roots and fix atmospheric nitrogen. Some of this nitrogen is utilized by the growing plant but some can also be used by other plants growing nearby[
Edible Uses
When the native Indians in Peru are fasting, this herb is mixed with a little white maize (Zea mays) and some other plants, then eaten[
Medicinal
None known
Other Uses
None known
Propagation
Seed -
If you have any useful information about this plant, please leave a comment. Comments have to be approved before they are shown here.