Tabernaemontana corymbosa
Apocynaceae
Ervatamia baviensis (Pit.) Pichon
Ervatamia corymbosa (Roxb. ex Wall.) King & Gamble
Ervatamia hirta (Hook.f.) King & Gamble
Ervatamia inaequalifolia (Lütjeh. & Ooststr.) Pichon
Ervatamia jasminiflora Ridl.
Ervatamia laotica (Pit.) Pichon
Ervatamia pauciflora Ridl.
Pagiantha corymbosa (Roxb. ex Wall.) Markgr.
Pagiantha peninsularis Kerr.
Pseudixora sumatrana Miq.
Randia sumatrana (Miq.) Miq.
Tabernaemontana baviensis Pit
Tabernaemontana carinata Lütjeh. & Ooststr.
Tabernaemontana chinensis Merr.
Tabernaemontana cymulosa Miq.
Tabernaemontana hirta Hook.f.
Tabernaemontana inaequalifolia Lütjeh. & Ooststr.
Tabernaemontana laotica Pit.
Tabernaemontana pubituba Merr.
Tabernaemontana sumatrana (Miq.) Hallier f.
Tabernaemontana sumatrana Merr.
Common Name: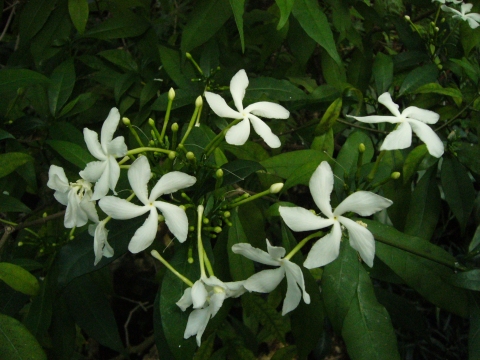 Flowering plant in the botanical garden of Lyon
Photograph by: User:BernardM


Flowering stems
Photograph by: Reuben C. J. Lim

General Information
Tabernaemontana corymbosa is a shrub or small tree growing 0.8 - 8 metres tall[
The tree is harvested from the wild for local medicinal use.
The plant is classified as 'Least Concern' in the IUCN Red List of Threatened Species(2011)[
Known Hazards
In Thailand and Malaysia, the roots are an ingredient of arrow poison[
Botanical References
Range
E. Asia - southern China, Indo-China, Myanmar, Malaysia, Indonesia.
Habitat
Mixed woods, brushwoods, at elevations of 500 - 1,700 metres[
Properties
| | |
| --- | --- |
| Conservation Status | Least Concern |
| Medicinal Rating | |
| Habit | Shrub |
| Height | 5.00 m |
| Cultivation Status | Wild |
Cultivation Details
The plant flowers and fruits throughout the year in areas without a pronounced seasonal climate[
Edible Uses
None known
Medicinal
The pounded roots, a poultice of the leaves, a decoction of the bark, juice from the plant, or an infusion of the inner bark or the roots are all used to remedy various syphilitic afflictions[
The bark and leaves are used for the treatment of fractures[
The sap of the leaves is applied to sores[
The roots are used during and after confinement[
Other Uses
None known
Propagation
Seed -
If you have any useful information about this plant, please leave a comment. Comments have to be approved before they are shown here.