Tabebuia roseoalba
Bignoniaceae
Bignonia roseoalba Ridl.
Handroanthus odontodiscus (Bureau & K.Schum.) Mattos
Handroanthus piutinga (Pilg.) Mattos
Handroanthus roseoalbus (Ridl.) Mattos
Sparattosperma neurocalyx Bureau & K.Schum.
Tabebuia odontodiscus (Bureau & K.Schum.) Toledo
Tabebuia papyrophloios (Bureau & K.Schum.) Melch.
Tabebuia piutinga (Pilg.) Sandwith
Tecoma mattogrossensis Kraenzl.
Tecoma odontodiscus Bureau & K.Schum.
Tecoma papyrophloios Bureau & K.Schum.
Tecoma piutinga Pilg.
Tecoma schumanni Kraenzl.
Common Name: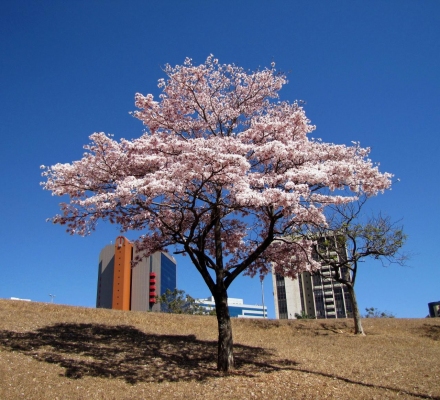 Flowering tree
Photograph by: Mauricio Mercadante


Close-up of the flowers
Photograph by: Mauricio Mercadante

General Information
Tabebuia roseoalba is a deciduous tree with an upright, pyramidal crown; it can grow 7 - 16 metres tall. The bole can be 40 - 50cm in diameter[
The tree is harvested from the wild for local use of its wood. A very ornamental tree, valued especially for its exuberant flowering, the dense, bluish-green foliage, and the shape of its crown.
Known Hazards
None known
Botanical References
Range
S. America - Paraguay, Brazil, Bolivia, Peru, Colombia.
Habitat
Broadleaved, semideciduous forests, where it can be found in dense, primary forest as well as in secondary formations and open areas, usually found in rocky and limestone areas[
Properties
| | |
| --- | --- |
| Other Uses Rating | |
| Habit | Deciduous Tree |
| Height | 12.00 m |
| Growth Rate | Fast |
| Cultivation Status | Ornamental, Wild |
Cultivation Details
Grows best in a sunny position[
A fast-growing tree, it can reach a height of 3.5 metres within 2 years from seed[
The tree can flower heavily on more than one period each year[
Edible Uses
None known
Medicinal
None known
Agroforestry Uses:
A fast-growing tree that is also a natural pioneer species, it is especially suitable for reforestation schemes on dry and rocky soils[
Other Uses
The wood has a lustrous surface, is moderately heavy, soft, of high durability indoors. It is used in house construction, mainly for indoor finishing[
Propagation
Seed - best sown as soon as it is ripe in a partially shaded position in a nursery seedbed or in individual containers. A germination rate of around 40% can be expected, with the seed sprouting within 8 - 18 days[
If you have any useful information about this plant, please leave a comment. Comments have to be approved before they are shown here.