Strychnos toxifera
Loganiaceae
Strychnos syntoxica Sprague & Sandwith
Common Name: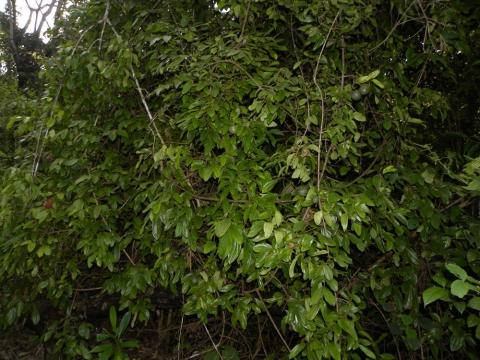 Fruiting plant, climbing into the surrounding vegetation
Photograph by: Reinaldo Aguilar


Fruits
Photograph by: Reinaldo Aguilar


Close-up of the fruit
Photograph by: Reinaldo Aguilar


Leaves
Photograph by: Reinaldo Aguilar


Illustration of the leaves and flowers
Photograph by: Franz Eugen Köhler, Köhler's Medizinal-Pflanzen
Public domain

General Information
Strychnos toxifera is a vigorous climbing shrub, climbing high into the surrounding trees and supporting itself in the branches by means of tendrils.
Along with Strychnos mitscherlichii, this species is the main source of 'calabash' curare, commonly used in the Amazon as an arrow poison[
Known Hazards
The bark is a sources of 'Calabash curare', an arrow poison produced in the jungles of the Amazon. Curare has a number of applications in modern medicine[
The bark contains the alkaloid curarine, which paralyses the peripheral nerves so voluntary muscles for respiration cease action and asphyxiation occur[
Botanical References
Range
S. America - Brazil, Bolivia, Peru, Ecuador, Venezuela, the Guyanas and through Central America to Costa Rica.
Habitat
Montane savannah and creek forests[
Properties
| | |
| --- | --- |
| Medicinal Rating | |
| Habit | Climber |
| Height | 0.00 m |
| Cultivation Status | Wild |
Cultivation Details
Not known
Edible Uses
None known
Medicinal
Curare, obtained from the bark of the stems, is a very toxic substance used in the Amazon as an arrow poison. It does also have medicinal applications; as a sedative, anticonvulsive etc. However, the toxic does is very near the pharmacological does and so it has to be used with great care.
Curare is a powerful paralyzing agent of the motor nerves. Its active principle is Curarin[
Curare has been reported effectual in two cases of hydrophobia, and has been successful in the treatment of tetanus[
The bark, applied externally, is said to be a good remedy for foul ulcers[
The bark is one of the most potent sedatives in nature and, could it be safely managed, would no doubt become a valuable remedial agent in the treatment of convulsive and spasmodic disorders[
The active alkaloids found in the plant include toxiferines, caracurine, macusine, mavacurine and fedamazine[
Other Uses
None known
Propagation
Seed -
If you have any useful information about this plant, please leave a comment. Comments have to be approved before they are shown here.