Solanum verrucosum
Solanaceae
Solanum macropilosum Correll
Solanum squamulosum M.Martens & Galeotti
Common Name: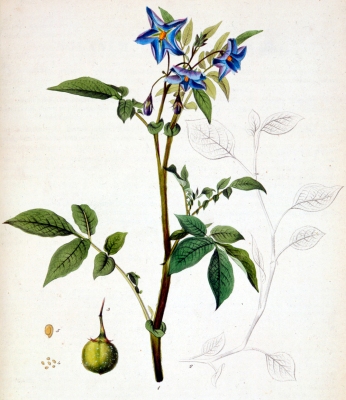 General Information
Solanum verrucosum is an erect to ascending, herbaceous, tuber-bearing perennial plant growing 20 - 50cm tall[
One of the many wild potatoes, this species is believed to have been cultivated for its tubers in Switzerland in the past, but, although of excellent flavour, the tubers were smaller and later to develop than the common potato (Solanum tuberosum)[
Known Hazards
Although providing many well-known foods for people, including the potato, tomato, pepper and aubergine, most species in this genus also contain toxic alkaloids. Whilst these alkaloids can make the plant useful in treaing a range of medical conditions, they can also cause problems such as nausea, vomiting, salivation, drowsiness, abdominal pain, diarrhoea, weakness and respiratory depression[
Unless there are specific entries with information on edible uses, it would be unwise to ingest any part of this plant[
Botanical References
Range
Southwestern N. America - Mexico.
Habitat
Cloud forests; in rich soil in alder, fir, pine, and oak forests; among bushes; roadsides; clearings in woods; among grasses; at elevations from 1,870 - 3,500 metres, occasionally to 4,000 metres[
Properties
| | |
| --- | --- |
| Edibility Rating | |
| Habit | Perennial |
| Height | 0.35 m |
| Pollinators | Insects |
| Self-fertile | Yes |
| Cultivation Status | Wild |
Cultivation Details
This species is very similar to some populations of Solanum stoloniferum and Solanum demissum[
Edible Uses
Tubers - cooked[
Medicinal
None known
Other Uses
None known
Propagation
Seed - sow in trays in a nursery. Prick out the seedlings into a fairly rich compost as soon as they are large enough to handle and grow them on fast. Plant them out when 10cm or more tall.
Division of the tubers when the plant is dormant
If you have any useful information about this plant, please leave a comment. Comments have to be approved before they are shown here.