Sansevieria aethiopica
Asparagaceae
It has been proposed by Pei-Luen Lu1 & Clifford W. Morden( in Phylogenetic Relationships among Dracaenoid Genera (Asparagaceae: Nolinoideae) Inferred from Chloroplast DNA Loci, Systematic Botany (2014), 39(1): pp. 90-104, DOI 10.1600/036364414X678035), that the genus Sansevieria should be transferred to the genus Dracaena. This treatment has not yet been taken up universally and so, for the time being, we are leaving Sansevieria as distinct. The proposed new name in Dracaena can be seen below in the list of synonyms.
There is a lot of confusion between this species, Sansevieria roxburghiana from India and Sansevieria zeylanica from Sri Lanka[
Dracaena aethiopica (Thunb.) Byng & Christenh.
Sansevieria caespitosa Dinter
Sansevieria glauca Haw.
Sansevieria scabrifolia Dinter
Sansevieria thunbergii Mattei
Sansevieria zeylanica non Willd.
Common Name: Bowstring Hemp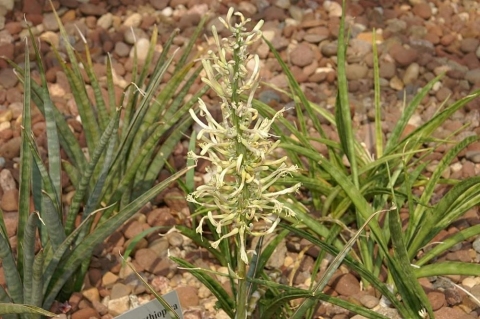 Cultivated flowering plant at Rawlings Conservatory
Photograph by: David Stang


Plant growing at Osaka Prefectural Flower Garden, Osaka, Japan
Photograph by: KENPEI


Growing plants
Photograph by: Peter A. Mansfeld

General Information
Bowstring hemp is an evergreen, succulent, perennial plant producing long, narrow, erect or slightly spreading sword-shaped leaves up to 75cm long from a rhizomatous rootstock. The plant can spread to form colonies.
A good quality fibre is obtained from the leaves of wild plants, which are also used for local medicinal purposes.
Known Hazards
None known
Botanical References
Range
South and east Africa - South Africa, Namibia, Botswana, Zimbabwe, Zambia, Kenya.
Habitat
Dry open places, bush-veldt or savannah, in well drained sandy or rocky soil
Properties
| | |
| --- | --- |
| Edibility Rating | |
| Medicinal Rating | |
| Other Uses Rating | |
| Habit | Evergreen Perennial |
| Height | 0.60 m |
| Cultivation Status | Wild |
Cultivation Details
Requires a very sunny position in a very well-drained sandy gritty loam[
Edible Uses
The rhizome is a source of water[
Medicinal
The leaves are bruised, then heated for a short time. They are then twisted by hand and the fluid thus obtained is dripped into the ear as a cure for ear problems[
Other Uses
A high quality fibre is obtained from the leaves. It is used for making sails and paper[
Propagation
Seed -
Division of suckers as growth commences in the spring.
Leaf-cuttings, 7cm long placed in sand in a frame[
If you have any useful information about this plant, please leave a comment. Comments have to be approved before they are shown here.