Pilocarpus jaborandi
Rutaceae
Pilocarpus cearensis Rizzini
Pilocarpus officinalis Poehl
Common Name: Jaborandi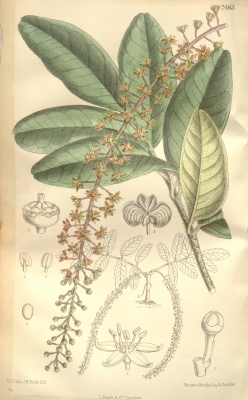 General Information
Jaborandi is an evergreen shrub or small tree branching from low down. It grows 3 - 7 metres tall[
An alkaloid isolated from the plant is commonly used in conventional medicine - the plant being gathered from the wild for this purpose. The leaves are also commonly used in herbal medicine.
Known Hazards
None known
Botanical References
Range
S. America - eastern and northeastern Brazil.
Habitat
Not known
Properties
| | |
| --- | --- |
| Medicinal Rating | |
| Other Uses Rating | |
| Habit | Evergreen Shrub |
| Height | 5.00 m |
| Cultivation Status | Wild |
Cultivation Details
Not known
Edible Uses
None known
Medicinal
Jaborandi has long been used in traditional medicine in S. America, where native people have employed the plant as a natural remedy for epilepsy, convulsions, gonorrhoea, fever, influenza, pneumonia, gastrointestinal inflammations, kidney disease, psoriasis, neurosis, and as an agent to promote sweating. Extensive modern research has borne out the efficacy of many of these treatments.
The leaves contain a number of medically active constituents, including alkaloids; an essential oil; terpenes and tannic acid[
The alkaloid pilocarpine has been shown to be responsible for much of the biological activity of the plant-especially its ability to induce sweating and salivation, as well as to lower intraocular pressure in the eyes (making it an effective treatment in certain types of glaucoma). This alkaloid has been isolated from the plant and is now widely used in conventional medicine for the treatment of glaucoma and as an agent to cause constriction of the pupil of the eye (useful in some eye surgeries and procedures)[
Pilocarpine is even being used as a tool for the diagnosis of Alzheimer's disease in early stages; the eye constriction response to the alkaloid was found to be greater in Alzheimer's patients than in controls. Tablets of pilocarpine are also manufactured and prescribed to cancer patients to treat dryness of the mouth and throat caused by radiation therapy as well as to patients with Sjogren's syndrome (an autoimmune disease in which immune cells attack the moisture-producing glands causing dry mouth and eyes)[
Another alkaloid in the leaf, jaborine, has been shown to counteract or decrease the effects of pilocarpine, which means that one cannot simply relate the effective dosage of a leaf extract based solely upon the pilocarpine content of the extract.
The leaves are considered antiinflammatory, cardiac, diaphoretic, diuretic, febrifuge, galactagogue and sialagogue[
Other Uses
The leaves are used as a hair tonic which is believed to open pores and clean hair follicles, prevent hair loss, and generally aid in the manageability of hair[
The leaves contain an essential oil which gives off an aromatic balsam smell when they are crushed[
Propagation
Seed -
If you have any useful information about this plant, please leave a comment. Comments have to be approved before they are shown here.