Philodendron imbe
Araceae
A recent revision of this genus in Brazil has not accepted this species, classifying it as an unplaced name - Sakuragui, C.M., Mayo, S.J. & Zappi, D.C. (2005). Taxonomic revision of Brazilian species of Philodendron. Kew Bulletin 60: 465-513.
Philodendron sellowianum Kunth
Common Name: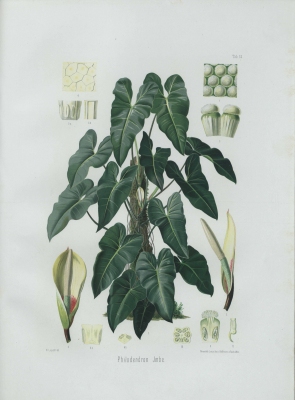 Drawing of the flowering plant
Photograph by: Peyritsch, J.J., Schott, H.W., Aroideae Maximilianae, p. 45, t. 34 (1879) [W. Liepoldt]


Cultivated plant in the Campus do Pici, da Universidade Federal do Ceará
Photograph by: Rapper Ouriço
Public domain


Close-up of the leaves
Photograph by: Rapper Ouriço
Public domain

General Information
Philodendron imbe is a vigorous, evergreen, climbing shrub growing up to 5 metres tall with long, aerial rooting stems trailing down to the ground[
The aerial roots are gathered from the wild and used locally as a source of material for making ropes, baskets etc. The plant is often grown as an ornamental, with some named forms having been developed.
Known Hazards
Although no specific mention has been seen for this species, it belongs to a family where most of the members contain calcium oxalate crystals. This substance is toxic fresh and, if eaten, makes the mouth, tongue and throat feel as if hundreds of small needles are digging in to them. However, calcium oxalate is easily broken down either by thoroughly cooking the plant or by fully drying it and, in either of these states, it is safe to eat the plant.
People with a tendency to rheumatism, arthritis, gout, kidney stones and hyperacidity should take especial caution if including this plant in their diet[
Botanical References
Range
S. America - Bolivia, Brazil.
Habitat
Not known
Properties
| | |
| --- | --- |
| Habit | Evergreen Climber |
| Height | 4.00 m |
| Cultivation Status | Ornamental, Wild |
Cultivation Details
A plant of tropical areas, where it is found from low elevations up to 1,400 metres or more.
Prefers a moist, well-drained, humus-rich soil and a position in partial shade[
Like many species in the family Araceae, this plant has the ability to heat the flowering spadix as the pollen becomes ready for fertilization. This heat greatly increases the strength of the aroma released by the plant, thus attracting more pollinating insects. It can also have the effect of making the insects more active, thus increasing the level of fertilization[
Edible Uses
None known
Medicinal
None known
Other Uses
The long, strong, aerial roots are a source of fibre and are used for making ropes[
The bark stripped from the aerial roots is strong enough to be used for making baskets[
Propagation
Seed - germinates best at 20°c[
Air layering.
Stem tip cuttings.
Leaf bud cuttings.
If you have any useful information about this plant, please leave a comment. Comments have to be approved before they are shown here.