Peltogyne venosa
Fabaceae
Peltogyne densiflora Spruce ex Benth.
Peltogyne paraensis Huber
Common Name: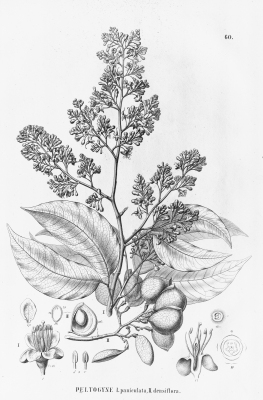 General Information
Peltogyne venosa is a semideciduous tree with a heavy, umbrella-shaped crown; it can grow up to 35 metres tall. The straight, cylindrical bole has small, plank-like buttresses up to 90cm tall; it can be 90cm in diameter and unbranched for up to 12 metres[
This tree is a major source of 'purpleheart' wood. With its purple colour, this is one of the most, distinctive and expensive woods of tropical America. It is commonly harvested from the wild for local use and export.
Known Hazards
None known
Botanical References
Range
Northern S. America - Brazil, Venezuela, the Guyanas.
Habitat
Rainforest, especially creek forest[
Properties
| | |
| --- | --- |
| Medicinal Rating | |
| Other Uses Rating | |
| Habit | Semi-deciduous Tree |
| Height | 30.00 m |
| Cultivation Status | Wild |
Cultivation Details
A tree of the moist, lowland tropics, where it is usually found at elevations below 250 metres.
Edible Uses
None known
Medicinal
An aromatic resin extracted from the wood is used in medicine[
Other Uses
An aromatic resin is extracted from the wood[
The bark of mature trees is used by local people for making canoes[
The heartwood is a greyish purple when freshly cut, later becoming a violet purple to deep purple through an oxidation process and then slowly darkening to an attractive deep brown; it is clearly demarcated from the 5 - 10cm thick layer of creamy white to light pinkish cinnamon streaked with light brown sapwood. The uniform texture varies from fine to medium; the grain is usually straight and seldom interlocked, but is sufficiently irregular, along with variation in lustre and colour, to give the wood a pleasing stripe figure on the quarter-cut surface; lustre is medium, somewhat greasy in appearance, and cold to the touch; no distinctive odour or taste is present in seasoned wood. The wood is very hard, extremely heavy, strong, tough, and very durable in the soil, but it is most often recognized for its unusual colouring, which at times is actually purple. In due time, the purplish colour is lost and the wood turns a permanent attractive dark brown. However, the exterior brown colour is only at the surface and by removing a thin layer the original colouring can be restored. Unfortunately, the oxidation process will again prevail, turning the wood first to purple and later to a walnut brown and finally to a black-brown colour with age. It seasons somewhat slowly, with only a slight risk of checking and distortion; once dry it is moderately stable in service. The wood is moderately difficult to work with either hand or machine tools, for the wood resists cutting and dulls cutting edges. It also exudes a gummy resin when heated by dull tools; this resin clings to cutter teeth and other tool parts and complicates the machining operations. Straight-grained material saws and planes well if sharp tools are used, but some care is required on irregular-grained material to prevent pick-up, especially on the radial surface. The wood turns smoothly and requires but little sanding to bring out a good finish. It is easily fastened by gluing and takes stain and either wax or French polish well, but its purple colour is dissipated by spirit polishes. A lacquer finish is reported to hold this purple colouring. The wood splits when nailed and requires preboring; it can be veneered with a hot glue. A relatively expensive, high-quality wood, it should, in general, be put into one of two uses: (1) Those requiring wood of great strength, particularly the ability to withstand strain and sudden shocks; and (2) those requiring wood of unusual beauty or colouring[
Because of its unique shades and peculiar variegated or mottle colour effect, it is particularly well adapted for use in turnery, marquetry, cabinets, ornamental furniture, counters, office desks, counter tops, carving, inlaying, billiard
cue butts, swagger sticks, panelling, decorative handles, veneer parquet flooring, handles, billiard tables, and other similar uses. The good mechanical characteristics of the wood fits it for such specialized uses as gymnasium apparatus, diving boards, skis, mill rollers, shafts, and tool handles. Purpleheart is considered Brazil' s best timber for spokes in cart wheels. Because the wood has dimensional stability, it is used in the tropics for window frames and sliding shades. Though expensive, its high strength, hardness, and resistance to decay qualify it for structural purposes, house framing, bridging, fresh water piling, and for many other parts of house construction from millwork to flooring and siding[
Propagation
Seed -
If you have any useful information about this plant, please leave a comment. Comments have to be approved before they are shown here.