Pachyelasma tessmannii
Fabaceae
Stachyothyrsus tessmannii Harms
Common Name: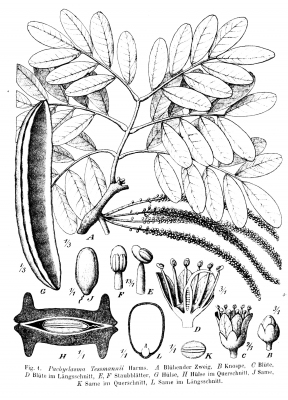 General Information
Pachyelasma tessmannii is a tree with a dome-shaped, spreading crown; it can grow up to 60 metres tall. The bole is usually straight and cylindrical, but is sometimes deformed; it can be up to 250cm in diameter; with well-developed, plank-buttresses[
The tree is harvested from the wild for local use as a medicine. The wood is sometimes utilized, but is difficult to harvest becuse of the huge size of the tree and so is often left standing when forests are cleared[
Known Hazards
The fruits, seeds and bark are used as fish poison, and the species is reported as one of the most effective fish poisons of Central Africa[
Botanical References
Range
West tropical Africa - southern Nigeria, Cameroon, Central African Republic, Equatorial Guinea, Gabon, Congo, DR Congo.
Habitat
A canopy and emergent tree in dense primary rinforest[
Properties
| | |
| --- | --- |
| Medicinal Rating | |
| Other Uses Rating | |
| Habit | Tree |
| Height | 50.00 m |
| Cultivation Status | Wild |
Cultivation Details
The flowers and wood have a very unpleasant smell that can carry for a considerable distance (up to 300 metres).
This is one of the biggest and most majestic trees of the Congolean rain-forest[
Edible Uses
None known
Medicinal
The fruit is abortifacient. As a treatment for diarrhoea, an extract of the ground fruits is administered as an enema, or the macerated fruits are added to water and the patient takes a bath in the solution[
The methanol extract of the root bark exhibits molluscicidal properties[
Four triterpene saponins, pachyelasides A - D, have been isolated from the root bark, and each of them showed molluscicidal properties[
The recent isolation of novel saponins from the root bark of Pachyelasma tessmannii will undoubtedly fuel interest in its pharmacology and as the fruits have the widest application in folk medicine, research should also target the fruits[
Other Uses
The heartwood is reddish brown; it is usually distinctly demarcated from the up to 10cm wide band of whitish pink sapwood. The grain is often interlocked or wavy, texture coarse. The heartwood is heavy, hard, durable and only rarely attacked by termites and marine borers, but attack by pinhole borers may occur. The rates of shrinkage are high; quarter-cutting of the logs is recommended. The wood saws well, but strength is required; it is difficult to machine and plane; the use of a filler is required to produce a smooth finish, but a filler is not easily applied; nailing and screwing properties are good.
The tree is used for timber to a limited extent. The gigantic dimensions of fully-grown trees make felling and transport hazardous and conversion work difficult with the usual equipment. As a result such giant trees have generally been left standing in commercial timber operations. The wood is suitable for heavy construction, boat building, vehicle bodies, furniture and cabinet work, joinery, sporting goods and implements, interior trim, toys and novelties, and turnery. It is particularly suitable for very thin veneer[
The timber of Pachyelasma tessmannii can be confused with that of 'tali' (Erythrophleum ivorense[
Propagation
Seed -
If you have any useful information about this plant, please leave a comment. Comments have to be approved before they are shown here.