Ormosia panamensis
Fabaceae
Fedorovia panamensis (Benth.) Yakovlev
Ormosia stipitata Schery
Common Name: Sur Espino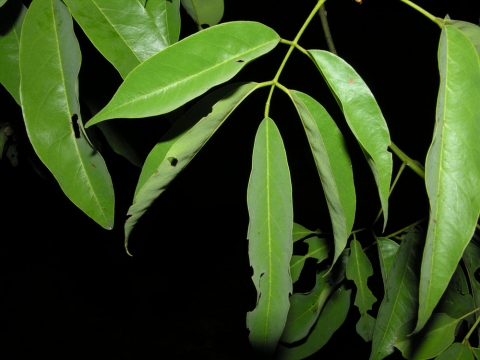 Leaves
Photograph by: Reinaldo Aguilar


Flowers
Photograph by: Reinaldo Aguilar


Close-up of the flower
Photograph by: Reinaldo Aguilar

General Information
Ormosia panamensis is an evergreen tree that grows from 8 - 30 metres tall[
The tree is harvested from the wild for local use of its wood.
Ormosia panamensis has a range in Panama that is restricted to areas that are affected by an increasing human activities - this has led to the species being considered nationally threatened. However the tree is more common in other parts of its range and so overall it is classified as 'Least Concern' in the IUCN Red List of Threatened Species(1998)[
Known Hazards
The plants, but especially the seed and perhaps also the bark, of many if not all species in this genus contain alkaloids and are toxic[
Botanical References
Range
Central America - Panama Costa Rica, Guatemala to southern Mexico.
Habitat
Moist rainforests[
Properties
| | |
| --- | --- |
| Conservation Status | Least Concern |
| Other Uses Rating | |
| Habit | Evergreen Tree |
| Height | 15.00 m |
| Cultivation Status | Wild |
Cultivation Details
This species has a symbiotic relationship with certain soil bacteria; these bacteria form nodules on the roots and fix atmospheric nitrogen. Some of this nitrogen is utilized by the growing plant but some can also be used by other plants growing nearby[
Edible Uses
None known
Medicinal
None known
Other Uses
We have seen no specific reports for this species, but the brightly coloured seeds of various members of this genus are so commonly used as beads that the various species are often called necklace trees[
The wood is durable. It is used for construction[
We do not have any more information on the wood of this species, but a general description for the wood of S. American members of this genus is as follows:-
The heartwood is pinkish to reddish, mostly salmon-coloured, sometimes yellowish-brown, more or less streaked; it is not always distinct from the yellowish sapwood. The texture is coarse to very coarse; the grain mostly irregular; lustre usually medium; it feels harsh; there is no distinctive odour or taste. The wood is generally reported to be quite susceptible to attack by decay fungi; it is vulnerable to dry-wood termites, and prone to powder-post beetle attack
(sapwood). It generally air dries very slowly; checking and warp vary from slight to moderate. For most species, the wood is reported to saw and machine easily, with fair to good results; surfaces, however, are somewhat rough and difficult to finish. It is used for furniture components, interior construction, general carpentry, and utility veneer[
Propagation
Like many species within the family Fabaceae, once they have been dried for storage the seeds of this species may benefit from scarification before sowing in order to speed up and improve germination. This can usually be done by pouring a small amount of nearly boiling water on the seeds (being careful not to cook them!) and then soaking them for 12 - 24 hours in warm water. By this time they should have imbibed moisture and swollen - if they have not, then carefully make a nick in the seedcoat (being careful not to damage the embryo) and soak for a further 12 hours before sowing[
If you have any useful information about this plant, please leave a comment. Comments have to be approved before they are shown here.