Myristica chartacea
Myristicaceae
Common Name: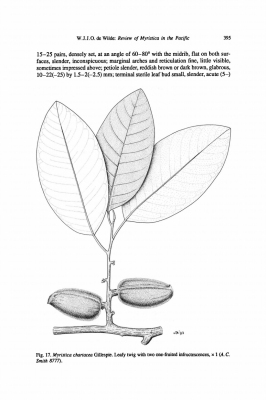 General Information
Myristica chartacea is an evergreen tree that can grow from 4 - 24 metres tall[
The tree is harvested from the wild for local use of its wood.
Known Hazards
None known
Botanical References
Range
Pacific - Fiji
Habitat
Dense forest; dense ridge forest; rather dry forest; at elevations from 50 - 900 metres[
Properties
| | |
| --- | --- |
| Other Uses Rating | |
| Habit | Evergreen Tree |
| Height | 15.00 m |
| Pollinators | Bees, Insects |
| Self-fertile | No |
| Cultivation Status | Wild |
Cultivation Details
Members of this genus are mainly understorey and canopy trees of primary woodland. They need the shade of woodland, especially when young, though can often tolerate more open positions as they grow larger. They usually succeed on a range of soil types. Most species have a superficial root system and are best grown in positions sheltered from strong winds[
The plant can flower and produce fruit all year round[
Flowers are produced at the end of the branches[
A dioecious species, both male and female forms need to be grown if seed is required.
Edible Uses
None known
Medicinal
None known
Other Uses
The red sap (kino), present in the bark of most species in this genus, can be used as a dye that gives a permanent brown stain[
A useful timber tree[
We have no more information for this species, but the following is the general information for the wood of trees in this genus:-
The heartwood can be dark reddish brown to light yellow-brown or brown with occasional pink tinge and dark red-purple stripes; it is not clearly differentiated from the paler sapwood. A blood red core is found in some species. The grain is straight; the texture is rather fine to slightly coarse and even; somewhat lustrous; without characteristic odour or taste. Growth rings are distinct, demarcated by layers of terminal parenchyma. The wood is mostly soft or moderately hard and moderately heavy; it is not durable, but is easily treated with preservatives. The wood dries rather slowly but with little degrade, though thin stock tends to warp. It is easy to work with, but sometimes easily splitting; planning is easy, with a smooth to moderately smooth finish; drilling and turning are easy with a smooth finish; nailing properties are generally good with some tendency to splitting. A light hardwood, it is mainly used for light construction work, partitioning, flooring, wall-panelling, moulding and other types of interior finishing, and for making tool-handles, woodcrafts, match boxes and splints, packing cases, crates, and household utensils. It is also suitable for manifacturing plywood, rotary veneer and wrapping and writing papers[
Propagation
Seed - dries out easily, loses its viability rapidly, and cannot be stored. It is best sown in a shaded position in a nursery seedbed - germination is usually fairly quick with the seed of most species sprouting within 2 - 17 weeks[
If you have any useful information about this plant, please leave a comment. Comments have to be approved before they are shown here.