Malouetia cestroides
Apocynaceae
This name is not universally accepted. We are following the treatment in the online Flora do Brasil 2012, which is based on 'Flora Fanerogâmica do Estado de São Paulo' 4: 1-392. Instituto de Botânica, São Paulo 2005. Walderley, M.G.L., Shepherd, G.J., Melhem, T.S. & Giulietti, A.M. (eds.). However, the World Checklist of Selected Plant Families rejects this and instead used Malouetia arborea (Vell.) Miers (treated here as a synonym)) as the correct name for the species[
Echites arboreus Vell.
Malouetia arborea (Vell.) Miers
Malouetia lanceolata Müll.Arg.
Malouetia martii Müll.Arg.
Robbia cestroides (Nees ex Mart.) A.DC.
Robbia gossypina Miers
Robbia martii (Müll.Arg.) Miers ex K.Schum.
Secondatia arborea (Vell.) Müll.Arg.
Tabernaemontana cestroides Nees ex Mart.
Common Name: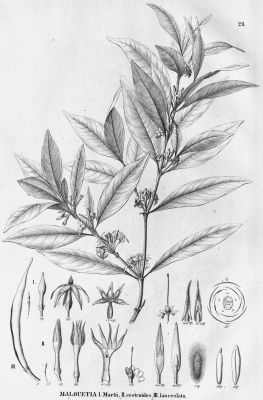 General Information
Malouetia cestroides is a deciduous tree with a sparse, roundish crown; it can grow 4 - 8 metres tall. The straight, more or less cylindrical bole can be 20 - 35cm in diameter[
The tree is sometimes harvested from the wild for local use of its wood. It can be used as a pioneer in planting schemes to restore native woodland.
Known Hazards
None known
Botanical References
Range
S. America - eastern Brazil.
Habitat
Atlantic rainforest growing on the tablelands in both dense primary forest and secondary growth areas. Found in most soil types, but strongly favouring deep, fertile soils, and commonly found in land that is subject to periodic inundation[
Properties
| | |
| --- | --- |
| Other Uses Rating | |
| Habit | Deciduous Tree |
| Height | 6.00 m |
| Pollinators | Bees |
| Cultivation Status | Wild |
Cultivation Details
Grows best in a sunny position[
Edible Uses
None known
Medicinal
None known
Agroforestry Uses:
A natural pioneer species, tolerant of a wide range of soils and of periodic inundation of the soil, it can be used in planting schemes for restoring native woodland[
Other Uses
The wood is fine to medium-textured, cross-grained, moderately heavy, with poor mechanical properties and of low durability. Of low quality and small dimensions, it is only used for items such as boxes, toys, linings, spools, tool handles and plywood fillings[
Propagation
Seed - best sown as soon as it is ripe in a partially shaded position in a nursery seedbed. A germination rate in excess of 50% can be expected, with the seed sprouting within 14 - 28 days[
If you have any useful information about this plant, please leave a comment. Comments have to be approved before they are shown here.