Lonchocarpus subglaucescens
Fabaceae
Common Name: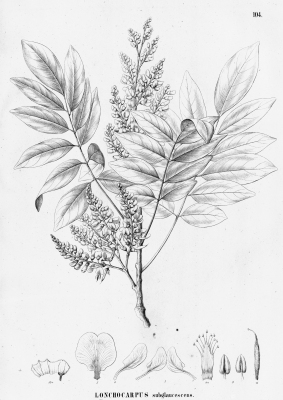 General Information
Lonchocarpus subglaucescens is an evergreen tree with a more or less globose crown; it can grow 10 - 20 metres tall. The straight and more or less cylindrical bole can be 30 - 45cm in diameter[
The tree is sometimes harvested from the wild for local use of its wood. Very ornamental when in bloom, it can be used in landscaping[
Known Hazards
None known
Botanical References
Range
S. America - southern and eastern Brazil.
Habitat
Atlantic rainforest and Araucaria forest, growing mainly in open, secondary formations at higher elevations, in valley bottoms and near rivers in areas not subject to periodic inundation; favouring fertile, clayey soils[
Properties
| | |
| --- | --- |
| Other Uses Rating | |
| Habit | Evergreen Tree |
| Height | 15.00 m |
| Pollinators | Insects |
| Cultivation Status | Wild |
Cultivation Details
Succeeds in a sunny position to fairly moderate shade[
This species has a symbiotic relationship with certain soil bacteria; these bacteria form nodules on the roots and fix atmospheric nitrogen. Some of this nitrogen is utilized by the growing plant but some can also be used by other plants growing nearby[
Edible Uses
None known
Medicinal
None known
Other Uses
The wood is medium-textured, irregular-grained, moderately heavy, with moderate mechanical properties and not very durable. It is only used locally, being employed in construction for purposes such as scantlings, laths and boards for walls; for light cabinet making, wheels, bearing rails, tool handles etc[
The wood is used for fuel and to make charcoal[
We have no more information on the wood of this species. However, we have a general description of the wood for members of this genus, which is as follows:-
The heartwood is yellowish-brown to dark reddish-brown, striped with rather fine uniform parenchyma laminations of a lighter colour; it is sharply demarcated from the thick band of yellowish sapwood. The texture is moderately coarse; the grain straight to irregular or interlocked; lustre is low to medium; there is no distinctive odour or taste. Durability varies considerably with the species. Seasoning also varies with species, the drying rate can be rather slow to rather
rapid. It is reported to dry satisfactorily without excessive distortion or shrinkage if dried slowly. In spite of its hardness, the wood is not particularly difficult to work; smooth planing, however, is difficult because of interlocked grain. It is used for purposes such as heavy construction, flooring, furniture components etc. Durable species have been suggested for railroad crossties[
Propagation
Seed - best sown as soon as it is ripe in a sunny position in a nursery seedbed. A high germination rate can usually be expected, with the seed sprouting within 7 - 14 days[
Like many species within the family Fabaceae, once they have been dried for storage the seeds of this species may benefit from scarification before sowing in order to speed up and improve germination. This can usually be done by pouring a small amount of nearly boiling water on the seeds (being careful not to cook them!) and then soaking them for 12 - 24 hours in warm water. By this time they should have imbibed moisture and swollen - if they have not, then carefully make a nick in the seedcoat (being careful not to damage the embryo) and soak for a further 12 hours before sowing[
If you have any useful information about this plant, please leave a comment. Comments have to be approved before they are shown here.