Licaria triandra
Lauraceae
Acrodiclidium limbosum (Ruiz & Pav.) Mez
Acrodiclidium triandrum (Sw.) Lundell
Aydendron cubense A.Rich.
Laurus cervantesii Kunth
Laurus limbosa Ruiz & Pav.
Laurus triandra Sw.
Licaria limbosa (Ruiz & Pav.) Kosterm.
Licaria pittieri (Mez) C.K.Allen
Licaria quixos (Lam.) Kosterm.
Licaria reclinata Lundell
Licaria tikalana (Lundell) Lundell
Misanteca cervantesii (Kunth) Lundell
Misanteca costaricensis I.M.Johnst.
Misanteca cubensis Benth.
Misanteca jurgensenii Mez
Misanteca limbosa (Ruiz & Pav.) Lundell
Misanteca nayaritensis Lundell
Misanteca pittieri Mez
Misanteca quixos (Lam.) Lundell
Misanteca reclinata (Lundell) Lundell
Misanteca tikalana Lundell
Misanteca triandra (Sw.) Mez
Symphysodaphne cubensis A. Rich.
Common Name: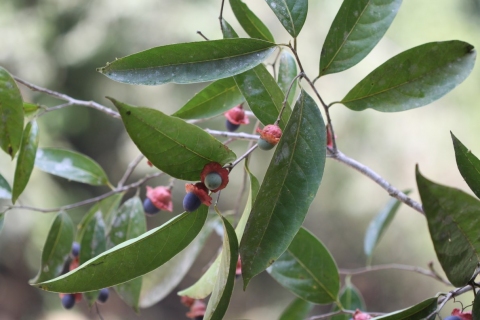 Fruiting branches
Photograph by: Indiana Coronado


Close-up of fruits
Photograph by: Germaine A. Parada


Drawing of the leaves, flowers and fruit
Photograph by: Sargent, C.S., Trees and shrubs, illustrations of new or little known ligneous plants, vol. 2: t. 155 (1855) [C.E. Faxon]

General Information
Licaria triandra is an evergreen tree with a broad, rounded crown; it can grow 7 - 16 metres tall. The bole can be 20cm in diameter[
The tree is harvested from the wild for its wood, which is used locally and also traded.
Known Hazards
None known
Botanical References
Range
S. America - Brazil, Bolivia, Peru, Ecuador, Colombia; C. America - Costa Rica to Mexico; Caribbean - Virgin Islands to Jamaica and Cuba.
Habitat
Woodlands in moist, limestone and shale areas, at elevations from 120 - 900 metres[
Properties
| | |
| --- | --- |
| Other Uses Rating | |
| Habit | Evergreen Tree |
| Height | 9.00 m |
| Cultivation Status | Wild |
Cultivation Details
All parts of the plant have a spicy aroma[
Edible Uses
None known
Medicinal
None known
Other Uses
The wood is described as ash coloured or greenish yellow. It is strong and heavy. It is used for posts, matches and matchboxes, and is said to be suitable for interior construction[
We have no more information on the wood of this species. However, a general description of the wood in this genus is as follows:-
The heartwood is orange or brown-yellow when freshly cut, darkening on exposure to yellowish-brown or coffee-brown and sometimes with a tinge of red or violet; the sapwood is light yellowish-brown. The texture is fine to medium; grain straight to slightly interlocked; lustre moderate; there is a fragrant odour from the fresh wood, most of which is lost on drying. The wood has an excellent resistance to both brown-rot and white-rot fungi; it is also rated very high resistance to dry-wood termites, but there is little resistance to attack by marine borers. Air seasoning characteristics are variable depending upon the source and the species, ranging from easy to season to moderately difficult; warp is slight but checking can be severe. The high density material is difficult to work but cuts smoothly; it tends to splinter in boring; it requires care in gluing; takes an excellent finish. The wood is used for making furniture, turnery, boat building, heavy construction, and parquet flooring[
Propagation
Seed -
If you have any useful information about this plant, please leave a comment. Comments have to be approved before they are shown here.