Leonotis ocymifolia
Lamiaceae
Leonotis bachmannii Gürke
Leonotis brevipes Skan
Leonotis capensis Raf.
Leonotis dinteri Briq.
Leonotis dubia E.Mey. ex Benth.
Leonotis dysophylla Benth.
Leonotis elliotii Baker
Leonotis engleri Gürke
Leonotis galpinii Skan
Leonotis hereroensis Briq.
Leonotis hirtiflora Benth.
Leonotis intermedia Lindl.
Leonotis kagerensis Lebrun & Touss.
Leonotis latifolia Gürke
Leonotis laxifolia MacOwan
Leonotis leonitis (L.) R.Br.
Leonotis longidens S.Moore
Leonotis malacophylla Gürke
Leonotis melleri Baker
Leonotis microphylla Skan
Leonotis mollis Benth.
Leonotis mollissima Gürke
Leonotis newtonii Briq.
Leonotis ovata Spreng.
Leonotis parvifolia Benth.
Leonotis raineriana Vis.
Leonotis randii S.Moore
Leonotis rugosa Benth.
Leonotis schinzii Gürke
Leonotis spectabilis S.Moore
Leonotis urticifolia Briq.
Leonotis velutina Fenzl ex Benth.
Leonotis westae Skan
Phlomis leonitis L.
Phlomis ocymifolia Burm.f.
Common Name: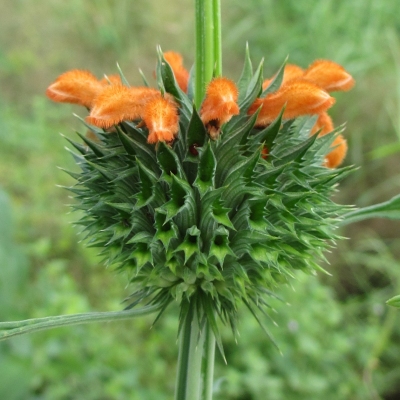 General Information
Leonotis ocymifolia is a slender shrub growing 1 - 5 metres tall, branching from a thick, woody base.
The plant is sometimes harvested from the wild and used locally as a condiment and medicine.
Known Hazards
None known
Botanical References
Range
Eastern and Southern Africa - Sudan to Ethiopia, south and west to Angola and most of southern Africa.
Habitat
Rocky outcrops and in well-drained soils on hillsides at elevations from 1,000 - 2,000 metres, but
descending to sea level in the south of its range[
Properties
| | |
| --- | --- |
| Edibility Rating | |
| Medicinal Rating | |
| Habit | Shrub |
| Height | 2.50 m |
| Cultivation Status | Wild |
Cultivation Details
Not known
Edible Uses
The young leaves are used as a condiment[
Medicinal
The leaves and flowering stems are emmenagogue and purgative[
Applied externally as a wash, the leaves are used to treat eczema and other skin irritations[
South African forms of the plant contain alkaloids, saponins and tannins but not cardiac or anthraquinone glycosides[
The leaves of forms from Ethiopia revealed the presence of labdane type diterpene lactones such as leonitin[
Other Uses
None known
Propagation
Seed -
If you have any useful information about this plant, please leave a comment. Comments have to be approved before they are shown here.