Kalanchoe laciniata
Crassulaceae
In view of the considerable overlap in chemical constituents found in Kalanchoe and the morphological similarity with Kalanchoe ceratophylla which makes it difficult to distinguish between the 2 species, it is presumed that this species is used for the same purposes as Kalanchoe ceratophylla[
Cotyledon laciniata L.
Kalanchoe acutifolia Haw.
Kalanchoe aegyptiaca DC.
Kalanchoe afzeliana Britten
Kalanchoe alternans Pers.
Kalanchoe brasiliensis Cambess.
Kalanchoe diversa N.E.Br.
Kalanchoe floribunda Wight & Arn.
Kalanchoe magnidens N.E.Br.
Kalanchoe rosea Clarke
Kalanchoe schweinfurthii Penzig
Kalanchoe welitschii Britton
Vereia laciniata (L.) Willd.
Common Name: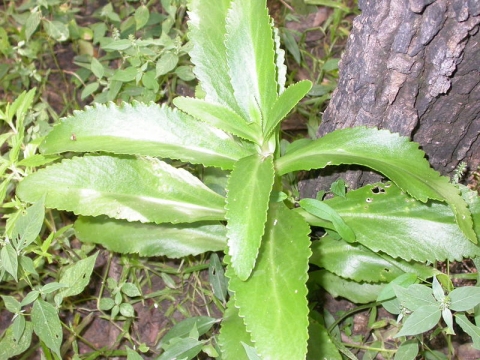 The leaves on older stems are deeply laciniate
Photograph by: Tony Rodd


As this drawing shows - the leaves on flowering plants become spear-shaped.
Photograph by: Candolle, A.P. de, Redouté, P.J., Plantarum Historia Succulentarum (Plantes grasses), vol. 2: t. 100 (1799-1837) [P.J. Redouté]

General Information
Kalanchoe laciniata is a short-lived perennial, or possibly sometimes biennial, erect plant that can grow up to 120cm tall when flowering. The fleshy stem is usually unbranched, it dies back to a large, underground tuber in dry conditions[
The plant is harvested from the wild for local use as a medicine. It is decorative and worthy of horticultural cultivation[
Known Hazards
None known
Botanical References
Range
Tropical east Africa, through the Arabian Peninsula; E. Asia - southern India, Thailand.
Habitat
Rocky grassland, open bushland, scrub, margins of thickets, on stony ground, rocky slopes and ledges; shady situations, in sandy or humus-rich soil; at elevations from 450 - 2,100 metres[
Properties
| | |
| --- | --- |
| Medicinal Rating | |
| Habit | Perennial |
| Height | 1.00 m |
Cultivation Details
Not known
Edible Uses
None known
Medicinal
The leaves are considered antipruritic, antiseptic, astringent, emollient and styptic[
Applied topically, the leaves are said to be good for cleaning ulcers and allaying inflammation; to stem bleeding on fresh cuts and abrasions; and as a poultice they are used for purposes such as relieving venomous insect-bites, applied to the chest to relieve coughs and colds and on the head to ease a headache[
The leaf has been reported to contain a fat, a yellow organic acid, cream of tartar, calcium sulphate, tartaric acid, calcium oxalate and malic acid[
Other Uses
None known
Propagation
Seed -
Easy to propagate vegetatively - just one leaf with part of its stem, when set on the soil, will produce roots and grow into a new plant[
If you have any useful information about this plant, please leave a comment. Comments have to be approved before they are shown here.