Jasminum lanceolaria
Oleaceae
We are following the spelling of this species as per the Flora of China[
Jasminum attenuatum Roxb. & G.Don
Jasminum discolor Franch.
Jasminum dunnianum H.Lév.
Jasminum lanceifolium Roxb.
Jasminum lanceolarium Roxb.
Jasminum lonchophyllum Voigt
Jasminum pachyphyllum Hemsl.
Jasminum paniculatum Roxb.
Jasminum scortechinii King & Gamble
Jasminum shimadae Hayata
Jasminum superfluum Koidz.
Common Name: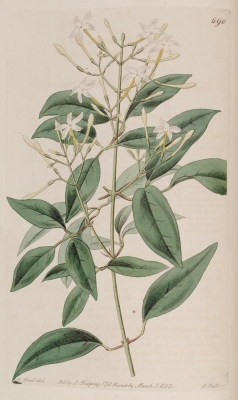 General Information
Jasminum lanceolaria is a climbing shrub growing 10 - 15 metres tall[
The flowers are harvested from the wild and used to scent tea.
Known Hazards
None known
Botanical References
Range
E. Asia - China, India, Assam, Myanmar, Thailand, Vietnam, Malaysia.
Habitat
Slopes, thickets, dense valley forests; at elevations below 2,200 metres[
Properties
| | |
| --- | --- |
| Edibility Rating | |
| Habit | Climber |
| Height | 12.00 m |
| Pollinators | Insects |
| Cultivation Status | Wild |
Cultivation Details
Members of this genus generally succeed in full sun or partial shade, preferring a fertile, humus-rich, moist but well-drained soil[
Edible Uses
The flowers are used for scenting tea[
Medicinal
None known
Other Uses
None known
Propagation
Seed - it does not require pre-treatment and is best sown in a partially shaded position as soon as it is ripe[
Cuttings 12 - 20cm long should be taken from terminal shoots; treatment with a root stimulator increases the strike rate[
Semi-ripe cuttings, 8cm long, places in a sandy medium, usually root within 4 weeks[
Cuttings taken from shoot tips have given better results than semi-ripe cuttings. They are usually treated with a fungicide, placed in prepared planting holes and watered[
Layering in the field is done with one-year-old shoots; a slanting cut is made approximately half-way through the shoot some 50cm from the end; the cut is buried about 10 - 15cm deep with the top remaining above ground. After about 4 - 6 months the rooted layers can be separated from the parent plant and transplanted[
If you have any useful information about this plant, please leave a comment. Comments have to be approved before they are shown here.