Hydnocarpus woodii
Achariaceae
The genus Hydnocarpus is currently (2015) under review and there seems no clear and generally accepted treatment currently available. Because different authorities are treating the genus differently, we have included several species here where we are uncertain if we are using the correct name - or even if we are including it more than once under different names. Although its position is currently unresolved, this is one of the species we are more confident about[
Common Name: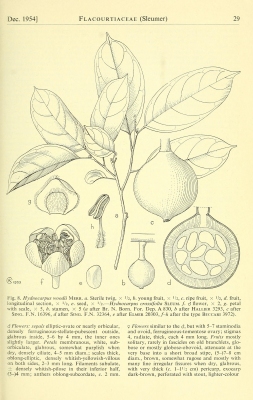 General Information
Hydnocarpus woodii is an evergreen tree that can grow from 18 - 37 metres tall, but is most likely to be between 25 - 30 metres[
The tree is probbly harvested from the wild, mainly for its oil-rich seeds which have medicinal applications, but also for its wood.
Known Hazards
None known
Botanical References
Range
Southeast Asia - Malaysia, Indonesia
Habitat
Rain-forests on flat or hilly, never inundated sandy, clayey or stony soil, rather common but scattered; at elevations up to 200 metres[
Properties
| | |
| --- | --- |
| Medicinal Rating | |
| Other Uses Rating | |
| Habit | Evergreen Tree |
| Height | 25.00 m |
| Pollinators | Insects |
| Cultivation Status | Wild |
Cultivation Details
Species in this genus generally require well-drained sandy or loamy silt soils and grow best along creek beds or on the banks of streams[
Seeds tend to go rancid rather quickly. Therefore ripe fruits should be opened and the fruit pulp and aril removed from the seeds. Seeds are then washed and dried in the sun. Sun-dried seeds, either whole or broken, are cold-pressed or pressed under concurrent heating to extract the oil. The chemical composition of the end-product of these methods varies[
A dioecious species, both male and female forms need to be grown if fruit and seed are required
Edible Uses
None known
Medicinal
The oil-rich seeds contain high concentrations of the cyclopentenyl fatty acid chaulmoogric acid and hydnocarpic acid. These are the most medically active components in chaulmoogra oil (obtained from various Hydnocarpus species) and commonly used in the treatment of a wide range of skin problems, including leprosy[
Other Uses
The pale-brown wood is close-textured[
When it attains suitable dimensions, the wood of species in this genus is often used locally for house building (poles), temporary heavy construction, posts, fences, interior finishing, panelling and door and window frames[
Propagation
Seed - best sown as soon as it is ripe, when it will usually germinate quickly. Germination of stored seed can be slow, with some species in the genus taking up to 2 years. Sow the seed in a shaded position in a nursery seedbed and keep moist. Grow on the seedlings in shade until large enough to plant out[
If you have any useful information about this plant, please leave a comment. Comments have to be approved before they are shown here.