Ficus variifolia
Moraceae
This species is very close to Ficus dicranostyla, but the upper surface of the leaves is smooth[
Ficus bongouanensis A.Chev.
Ficus bougouanouensis A.Chev.
Ficus inopinata Mildbr.
Ficus sciarophylla Warb.
Ficus zenkeri Warb. ex Mildbr. & Burret
Common Name: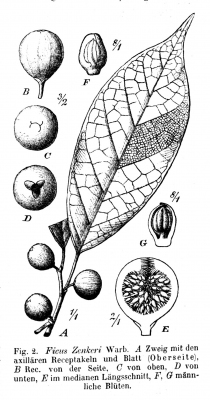 General Information
Ficus variifolia can be a shrub or a tree with a spreading crown; it can grow from 10 - 35 metres tall. The straight, cylindrical bole can be free of branches for threequarters of its height; it is around 100cm in diameter and has stout, plank buttresses[
The tree is sometimes harvested from the wild as a local source of wood and fibre. It can be used as a pioneer when restoring native woodland and in Tanzania it is commonly used to provide shade and grave marks[
Known Hazards
None known
Botanical References
Range
Tropical Africa - Guinea to southern Sudan, south to northern Angola, DR Congo and Tanzania.
Habitat
Pioneer of cleared areas; forest gallery; northern edges of half-deciduous forests; grass savannah; drier types of closed forest; clayey soil in rain-forest; old secondary forest; at elevations from 300 - 1,200 metres[
Properties
| | |
| --- | --- |
| Other Uses Rating | |
| Habit | Tree |
| Height | 20.00 m |
| Pollinators | Wasps |
| Cultivation Status | Ornamental, Wild |
Cultivation Details
Fig trees have a unique form of fertilization, each species relying on a single, highly specialized species of wasp that is itself totaly dependant upon that fig species in order to breed. The trees produce three types of flower; male, a long-styled female and a short-styled female flower, often called the gall flower. All three types of flower are contained within the structure we usually think of as the fruit.
The female fig wasp enters a fig and lays its eggs on the short styled female flowers while pollinating the long styled female flowers. Wingless male fig wasps emerge first, inseminate the emerging females and then bore exit tunnels out of the fig for the winged females. Females emerge, collect pollen from the male flowers and fly off in search of figs whose female flowers are receptive. In order to support a population of its pollinator, individuals of a Ficus spp. must flower asynchronously. A population must exceed a critical minimum size to ensure that at any time of the year at least some plants have overlap of emmission and reception of fig wasps. Without this temporal overlap the short-lived pollinator wasps will go locally extinct[
Edible Uses
None known
Medicinal
None known
Agroforestry Uses:
A natural pioneer species[
Other Uses
The fibrous inner bark is made into a reddish barkcloth[
The heartwood is whitish yellow or pale yellowish brown, sometimes slightly pinkish; it is not clearly demarcated from the sapwood. The grain is straight, texture coarse and even. Latex is present in the wood. The wood is light in weight, soft and not durable, being susceptible to attack by fungi and marine borers, although moderately resistant to attack by termites and pinhole borers. It saws easily and rapidly; planes well, but the finish is not first-class; it may split on nailing, but it peels, slices and glues well, producing a good plywood. The wood is locally used for carving. It is also considered suitable for joinery, light carpentry, ship and boat building, agricultural implements, toys and novelties, boxes and crates, matches, plywood, hardboard and particle board[
Propagation
Seed -
If you have any useful information about this plant, please leave a comment. Comments have to be approved before they are shown here.