Ficus scabra
Moraceae
Ficus ciliata Warb.
Ficus mareensis Warb.
Ficus reineckei Warb.
Ficus storckii pubescens Bureau
Ficus turbinata Willd.
Common Name: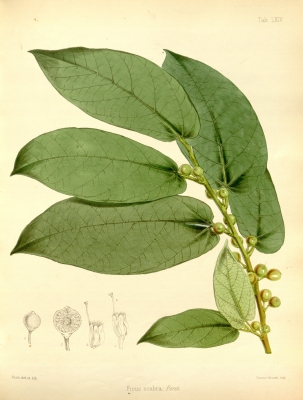 General Information
Ficus scabra can be a shrub, but is more commonly a tree. It can grow up to 18 metres tall[
The plant is harvested from the wild for local use as a food, medicine and materials.
Known Hazards
None known
Botanical References
Range
Pacific - New Caledonia and the New Hebrides to Fiji, Tonga, Niue and Samoa.
Habitat
Coastal and lowland forest, infrequently found inland, at elevations up to 300 metres[
Properties
| | |
| --- | --- |
| Edibility Rating | |
| Medicinal Rating | |
| Other Uses Rating | |
| Habit | Tree |
| Height | 12.00 m |
| Pollinators | Wasps |
| Cultivation Status | Wild |
Cultivation Details
The plant can flower and produce fruit all year round[
Fig trees have a unique form of fertilization, each species relying on a single, highly specialized species of wasp that is itself totaly dependant upon that fig species in order to breed. The trees produce three types of flower; male, a long-styled female and a short-styled female flower, often called the gall flower. All three types of flower are contained within the structure we usually think of as the fruit.
The female fig wasp enters a fig and lays its eggs on the short styled female flowers while pollinating the long styled female flowers. Wingless male fig wasps emerge first, inseminate the emerging females and then bore exit tunnels out of the fig for the winged females. Females emerge, collect pollen from the male flowers and fly off in search of figs whose female flowers are receptive. In order to support a population of its pollinator, individuals of a Ficus spp. must flower asynchronously. A population must exceed a critical minimum size to ensure that at any time of the year at least some plants have overlap of emmission and reception of fig wasps. Without this temporal overlap the short-lived pollinator wasps will go locally extinct[
Edible Uses
Young leaves - cooked[
Medicinal
The plant (part not specified) has the reputation of being a very efficacious stomachic medicine[
Other Uses
The bark is fibrous. We have no specific information for this species, but the fibre is likely to be used for making cordage, possibly cloth and maybe also to make tapa bark cloth[
The fibrous branches used to clean teeth[
The leaves of some species are used to wrap food for cooking[
The leaves of some species are quite rough and can be used as a sandpaper substitute and for scouring pots[
The wood of plants in this genus is usually of low quality, light in weight, soft and not very durable. It is sometimes used for purposes such as light construction, digging sticks, yam stakes, etc.
The wood is also used for fuel and sometimes for making fire by friction[
Propagation
Seed -
If you have any useful information about this plant, please leave a comment. Comments have to be approved before they are shown here.