Ficus lepicarpa
Moraceae
Covellia didynama Miq.
Covellia lepicarpa (Blume) Miq.
Covellia volkameriifolia Miq.
Ficus cuneifolia Hook. ex Miq.
Ficus malaica Hunter ex Ridl.
Ficus volkameriifolia (Miq.) Wall. ex Miq.
Common Name: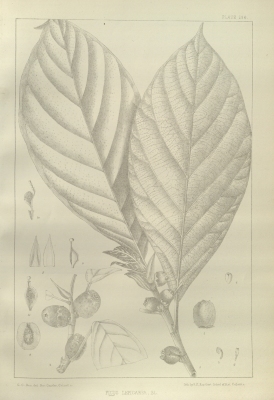 General Information
Ficus lepicarpa is a tree with a spreading crown; it can grow 5 - 15 metres tall[
The plant is harvested from the wild for local use as a food.
Known Hazards
None known
Botanical References
Range
E. Asia - Myanmar, Thailand, Malaysia, Indonesia.
Habitat
Humid forests, typical on rocky banks of rivers, at elevations up to 1,700 metres[
Properties
| | |
| --- | --- |
| Edibility Rating | |
| Habit | Tree |
| Height | 10.00 m |
| Pollinators | Wasps |
| Cultivation Status | Wild |
Cultivation Details
Fig trees have a unique form of fertilization, each species relying on a single, highly specialized species of wasp that is itself totaly dependant upon that fig species in order to breed. The trees produce three types of flower; male, a long-styled female and a short-styled female flower, often called the gall flower. All three types of flower are contained within the structure we usually think of as the fruit.
The female fig wasp enters a fig and lays its eggs on the short styled female flowers while pollinating the long styled female flowers. Wingless male fig wasps emerge first, inseminate the emerging females and then bore exit tunnels out of the fig for the winged females. Females emerge, collect pollen from the male flowers and fly off in search of figs whose female flowers are receptive. In order to support a population of its pollinator, individuals of a Ficus spp. must flower asynchronously. A population must exceed a critical minimum size to ensure that at any time of the year at least some plants have overlap of emmission and reception of fig wasps. Without this temporal overlap the short-lived pollinator wasps will go locally extinct[
Edible Uses
Fruit - raw[
Young shoots - raw[
Medicinal
None known
Other Uses
None known
Propagation
Seed -
If you have any useful information about this plant, please leave a comment. Comments have to be approved before they are shown here.