Ficus calyptroceras
Moraceae
Ficus elliotiana S.Moore
Ficus rojasii Hassl.
Urostigma calyptroceras Miq.
Common Name: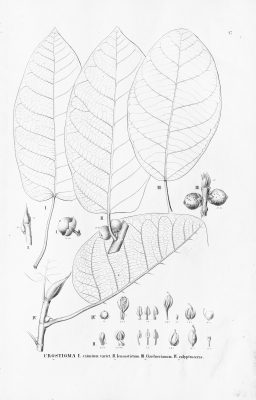 General Information
Ficus calyptroceras is a semideciduous tree with a wide, roundish crown; it can grow 8 - 12 metres tall. The short bole can be 80 - 120cm in diameter[
The tree is often harvested from the wild for its wood, which is used locally and exported. Providing an excellent shade, the tree can be used in rural landscaping[
The plant is classified as 'Vulnerable' in the IUCN Red List of Threatened Species(2011)[
Known Hazards
None known
Botanical References
Range
S. America - Argentina, Paraguay, central, eastern and northern Brazil, Bolivia.
Habitat
Rainforest and arid forests, mainly in the more open, secondary formations on higher land or in river valleys that are not subject to inundation, favouring deep, fertile, humus-rich clayey soils[
Properties
| | |
| --- | --- |
| Conservation Status | Vulnerable |
| Other Uses Rating | |
| Habit | Semi-deciduous Tree |
| Height | 10.00 m |
| Pollinators | Wasps |
| Cultivation Status | Wild |
Cultivation Details
Grows best in a sunny position[
Fig trees have a unique form of fertilization, each species relying on a single, highly specialized species of wasp that is itself totaly dependant upon that fig species in order to breed. The trees produce three types of flower; male, a long-styled female and a short-styled female flower, often called the gall flower. All three types of flower are contained within the structure we usually think of as the fruit.
The female fig wasp enters a fig and lays its eggs on the short styled female flowers while pollinating the long styled female flowers. Wingless male fig wasps emerge first, inseminate the emerging females and then bore exit tunnels out of the fig for the winged females. Females emerge, collect pollen from the male flowers and fly off in search of figs whose female flowers are receptive. In order to support a population of its pollinator, individuals of a Ficus spp. must flower asynchronously. A population must exceed a critical minimum size to ensure that at any time of the year at least some plants have overlap of emmission and reception of fig wasps. Without this temporal overlap the short-lived pollinator wasps will go locally extinct[
Edible Uses
None known
Medicinal
None known
Other Uses
The wood is thick-textured, inclined-grained, moderately heavy, soft, with poor mechanical properties and of low durability. It is used for making boxes, insides of doors and panels, plywood and conglomerates. It is commonly used locally for purposes such as making troughs and other containers[
Propagation
Seed - best sown as soon as it is ripe in a partially shaded position in a nursery seedbed. The seed is very small so should be sown on the surface and gently watered into the soil, being careful not to wash it away. A low germination rate can be expected, with the seed sprouting within 20 - 35 days[
If you have any useful information about this plant, please leave a comment. Comments have to be approved before they are shown here.