Fagraea elliptica
Gentianaceae
Cyrtophyllum speciosum Blume
Fagraea aurantiodora S.Moore
Fagraea javanensis (Blume) Bakh.f.
Fagraea kimangu Blume
Fagraea picrophloea Blume
Fagraea pseudoelliptica Kaneh. & Hatus.
Fagraea pusilliflora Bakh.f.
Fagraea speciosa (L.) Blume
Fagraea sumatrana Miq.
Fagraea valida Miq.
Willughbeia elliptica Spreng.
Common Name: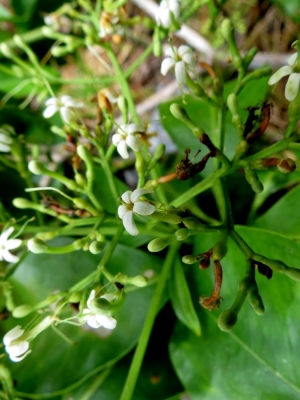 Flowering branches
Photograph by: Tjut Jul Fatisa Bangun


Inflorescence
Photograph by: Tjut Jul Fatsia Bangun

Creative Commons 3


Drawing of the flowering and fruiting stem
Photograph by: Blume, C.L., Rumphia, vol. 2: t. 81 (1836)

General Information
Fagraea elliptica is a tree that can grow up to 45 metres tall, though is sometimes a large shrub. The bole can be 15 - 150cm or more in diameter, sometimes with buttresses up to 100cm high[
The tree is commonly harvested from the wild for its wood, which is an important source of 'tembesu' timber and is used locally and also traded.
Known Hazards
None known
Botanical References
Range
Southeast Asia - Malaysia, Indonesia, New Guinea.
Habitat
Both dry and marshy or temporarily inundated soils, mostly on sand, often along rivers, in humid forests, open forests, shrubberies, heath forest, grass wastes, rocky strand forest, also as a shrub on open dry hill-tops; sea-level up to 1,800 metres[
Properties
| | |
| --- | --- |
| Medicinal Rating | |
| Other Uses Rating | |
| Habit | Tree |
| Height | 20.00 m |
| Pollinators | Insects |
| Cultivation Status | Wild |
Cultivation Details
Not known
Edible Uses
None known
Medicinal
The plant (part not specified) is used to treat stomach aches[
Other Uses
The latex found under the skin of the fruits is often used as an adhesive[
The wood is used for house and bridge building[
We have no more information on the wood for this species. However, the following is a general description of the wood for members of this genus:-
The heartwood is yellowish-brown to light brown, darkening upon exposure to a deep golden- or orange-brown; it is not clearly demarcated from the generally lighter coloured sapwood. The texture is variable, from fine to somewhat coarse; the grain is straight to irregular; the wood is lustrous; it has a distinct aromatic and somewhat acid odour when freshly cut, but this does not persist upon seasoning. The heartwood is reported to be very durable in ground contact and very resistant to termite attack; resistance to marine borer attack is questionable. It is reported to season slowly, otherwise it dries with little or no degrade. In Fiji quartersawing is suggested to minimize surface checking. Considering the high density, the wood is easy to saw and machine; it takes a good finish; some species are rather abrasive, however, and dull cutting edges; it is a good carving timber and turns well. The wood is used for purposes such as heavy construction, flooring, turnery, carvings, printing dies, specialty items (such as rulers, T-squares, straight edges), railroad crossties, boat construction[
Propagation
Seed -
If you have any useful information about this plant, please leave a comment. Comments have to be approved before they are shown here.