Engelhardia roxburghiana
Juglandaceae
The generic name of this plant is often spelled Engelhardtia. The original spelling, when the name was first published by Blume in 1825 - 26 was Engelhardia, although this was later corrected to Engelhardtia by Blume in 1829. There still seems to be disagreement over which version of the name is correct, but at present we are following GRIN and Tropicos, who both use the original spelling[
Engelhardia chrysolepis Hance
Engelhardia fenzelii Merr.
Engelhardia formosana (Hayata) Hayata
Engelhardia pterococca (Roxb.) Kuntze
Engelhardia spicata formosana Hayata
Engelhardia wallichiana Lindl. ex Wall.
Juglans pterococca Roxb.
Alfaroa roxburghiana (Lindl. ex Wall.) Iljinsk.
Alfaropsis roxburghiana (Lindl.) Iljinsk.
Engelhardia polystachya Radlk.
Engelhardia unijuga Chun ex P.Y.Chen
Common Name: Guiping-tiancha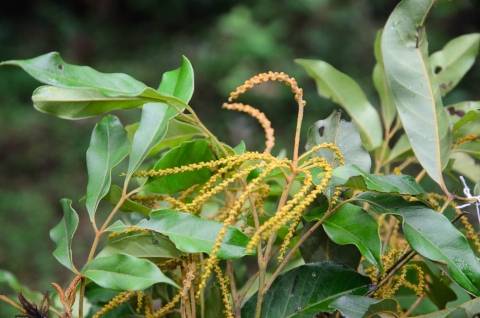 Inflorescence
Photograph by: Johannes Lundberg


Drawing of the flowering stem and ripe fruit
Photograph by: Wallich, N., Plantae Asiaticae Rariores, vol. 2: t. 199 (1831) [n.a.]


Leaves
Photograph by: jennyhsu47

General Information
Engelhardia roxburghiana is an evergreen to briefly deciduous tree with a dense, spreading crown; it can grow up to 35 metres tall. The bole is up to70cm in diameter with thin buttresses up to 2 metres high[
The tree is harvested from the wild for local use of its wood. It belongs to a group of timbers known in the trade as 'Dungun Paya', and is sometimes traded.
Engelhardtia roxburghiana is a large tree species native to China and Southeast Asia. The deforestation within these ranges is a potential threat to the species but this has not been confirmed and is not identified here as a major threat. The species has a wide native range and an estimated extent of occurrence that exceeds the criteria for a threatened category. Due to this population is assumed to be large. The plant is classified as 'Least Concern' in the IUCN Red List of Threatened Species(2013)[
Known Hazards
The bark and the leaves are rich in tannin,. They are used as a fish intoxicant[
Botanical References
Range
E. Asia - northeast India, Bangladesh, southern China, Myanmar, Thailand, Laos, Cambodia, Vietnam, Malaysia, Indonesia.
Habitat
Dense, primary, mixed dipterocarp forest in hilly country, growing on clay-rich, fairly fertile soils; at elevations up to 1,750 metres[
Properties
| | |
| --- | --- |
| Conservation Status | Least Concern |
| Other Uses Rating | |
| Habit | Semi-deciduous Tree |
| Height | 28.00 m |
| Pollinators | Wind, ?Insects |
| Cultivation Status | Wild |
Cultivation Details
Not known
Edible Uses
None known
Medicinal
This is one of four species that are used in Guangxi, China to make the ethnomedicine tiancha (sweet tea). This species is known as guiping-tiancha. The other three species are Rubus suavissimus S.Lee (Yaoshan-tiancha); Lithocarpus polystachyus (Wall.) Rehd. (baise-tiancha); and Mycetia sinensis (Hemsl.) Craib (longzhou-tiancha)[
Tiancha is used chiefly in the treatment of hypertension and diabetes[
.
Other Uses
The sapwood is white to pale yellow[
We do not have any more specific information on the wood of this species, but it belongs to a group of timbers known in the trade as 'Dungun Paya'[
The heartwood is grey-brown with a core that has a dark streaky colour; it merges gradually into the pale grey-brown sapwood. The texture is moderately coarse and even; the grain is straight, shallowly interlocked or sometimes wavy. The wood is soft to moderately hard, not very durable. It is easy to work but, being a fairly light timber it should not be used in situations where excessive strength and impact forces are required. Uses of the timber include veneer and plywood, turnery, moulding, tool handle for non-impact purposes, domestic flooring and general utility furniture. The corewood is decorative and it may be used for small ornamental items[
Propagation
Seed -
If you have any useful information about this plant, please leave a comment. Comments have to be approved before they are shown here.