Elaeocarpus griffithii
Elaeocarpaceae
Elaeocarpus argyrodes Hance
Elaeocarpus leucobotryus (Miq.) F.Muell.
Elaeocarpus paniculatus Wall. ex Müll.Berol.
Elaeocarpus trichanthera (Griff.) W.Theob.
Monocera griffithii Wight
Monocera leucobotrya Miq.
Monocera tricanthera Griff.
Common Name: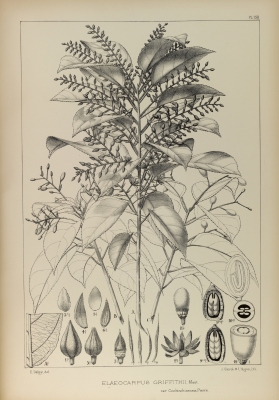 General Information
Elaeocarpus griffithii is an evergreen tree growing up to 16 metres tall. The bole can be 35cm in diameter[
The tree is harvested from the wild for local use as a food and medicine. It is also harvested for its wood, which is traded. This species is one of the main sources of 'sengkurat' timber in Malaysia[
Known Hazards
None known
Botanical References
Range
E. Asia - India, Myanmar, Thailand, Malaysia, Indonesia.
Habitat
An understorey tree, usually on open, alluvial, places in undisturbed to secondary mixed dipterocarp, keranga, peat swamp and freshwater swamp forests, mostly in swamps and along the sides of rivers; at elevations up to 1,000 metres[
Properties
| | |
| --- | --- |
| Edibility Rating | |
| Medicinal Rating | |
| Other Uses Rating | |
| Habit | Evergreen Tree |
| Height | 12.00 m |
| Cultivation Status | Wild |
Cultivation Details
The plant grows mainly on ultrabasic or poor sandy soils in the wild, but also on limestone[
Edible Uses
Fruit[
Medicinal
The bark is used to produce an antimalaria medicine[
Other Uses
The heartwood is light-yellowish white to pink-brown, it is not distinctly demarcated from the sapwood. The texture is moderately fine and even, with straight to shallowly interlocked grain. The wood is soft to moderately hard; light in weight to moderately heavy; weak; not very durable. It seasons fairly slowly with slight end and surface checking; shrinkage is fairly low. It is easy to resaw and cross-cut; planing is easy and leaves a moderately smooth finish; nailing properties are good. A general purpose wood, it is suitable for purposes such as general planking, shuttering, boxes, crates, wooden pallets, match splints, veneer and plywood[
Propagation
The seed of most species in this genus is covered by a hard, woody shell and can be very slow and erratic to germinate, sometimes taking 2 years or more. Filing down the shell, or cracking it (being very careful not to damage the seed) in order to allow the ingress of moisture can help to greatly speed up germination. Sow the seed in containers in light shade. When the seedlings are large enough to handle, prick them out into individual pots and grow them on until large enough to plant out,
Cuttings of almost ripe shoots, in a sandy soil in a frame. The leaves should be left on the stem.[
If you have any useful information about this plant, please leave a comment. Comments have to be approved before they are shown here.