Desmodium multiflorum
Fabaceae
Desmodium angulatum DC.
Desmodium dubium Lindl.
Desmodium floribundum (D.Don) G.Don
Desmodium floribundum (D.Don) Sweet
Desmodium mairei Pamp.
Desmodium nepalense H.Ohashi
Desmodium sambuense (D.Don) DC.
Dollinera sambuensis (D.Don) Walp.
Hedysarum floribundum D.Don
Hedysarum sambuense D.Don
Meibomia floribunda (D.Don) Kuntze
Ototropis sambuensis (D.Don) Nees
Common Name: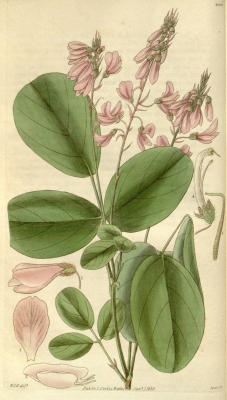 Drawing of the leaves and flowers
Photograph by: Curtis's Botanical Magazine, vol. 57 [ser. 2, vol. 4]: t. 2960 (1830) [W.J. Hooker]


Drawing of a flowering stem
Photograph by: Botanical Register, vol. 12: t. 967 (1826) [M. Hart]

General Information
Desmodium multiflorum is an erect shrub growing 1 - 2 metres tall[
The plant is sometimes harvested from the wild for local medicinal use.
Known Hazards
None known
Botanical References
Range
E. Asia - China, Pakistan, India, Nepal, Bhutan, Myanmar, Thailand, Laos, Vietnam.
Habitat
Mountain slopes, grasslands, forest margins; at elevations of 500 - 2,800 metres in China[
Properties
| | |
| --- | --- |
| Medicinal Rating | |
| Habit | Shrub |
| Height | 1.50 m |
| Pollinators | Insects |
| Cultivation Status | Wild |
Cultivation Details
Because of the abundant small uncinate hairs on most species, the seedpods cling most tenaciously to clothing, to any part of the human body, and also to the feathers and hair of various animals, thus ensuring a wide dispersal of the plants[
This species has a symbiotic relationship with certain soil bacteria; these bacteria form nodules on the roots and fix atmospheric nitrogen. Some of this nitrogen is utilized by the growing plant but some can also be used by other plants growing nearby[
Edible Uses
None known
Medicinal
The flowers and branches are used medicinally for reducing fever by inducing sweat[
Other Uses
None known
Propagation
Seed - best sown as soon as it is ripe. Stored seed develops a hard seedcoat and may benefit from scarification before sowing in order to speed up and improve germination. This can usually be done by pouring a small amount of nearly boiling water on the seeds (being careful not to cook them!) and then soaking them for 12 - 24 hours in warm water. By this time they should have imbibed moisture and swollen - if they have not, then carefully make a nick in the seedcoat (being careful not to damage the embryo) and soak for a further 12 hours before sowing.
The seed usually germinates within 1 - 4 months at 25°c. Prick out the seedlings into individual pots once they are large enough to handle and grow them on until large enough to plant out.
Cuttings of half-ripe wood with a heel.
Division. Larger clumps can be replanted direct into their permanent positions, though it is best to pot up smaller clumps and grow them on until they are rooting well.
Root cuttings.
If you have any useful information about this plant, please leave a comment. Comments have to be approved before they are shown here.