Cyperus imbricatus
Cyperaceae
A highly polymorphous species[
Cyperus anabaptistus Steud.
Cyperus biceps Vahl
Cyperus campestris Schrad. ex Nees
Cyperus confertiflorus Schult.
Cyperus dense-spicatus Hayata
Cyperus densiflorus Link
Cyperus densispicatus Cherm.
Cyperus digitatus Nees
Cyperus flexifolius Boeckeler
Cyperus involucratus Poir.
Cyperus macrosciadion Steud.
Cyperus mediorubescens Hayata
Cyperus obscurus Nees
Cyperus radiatus Vahl
Cyperus roylei Arn.
Cyperus semidives Steud.
Cyperus spicatus J.Presl & C.Presl
Cyperus verticillatus Roxb.
Cyperus viridispicatus Boeckeler
Dichostylis radiata (Vahl) Palla
Mariscus leptochloides Steud.
Common Name: Shingle Flatsedge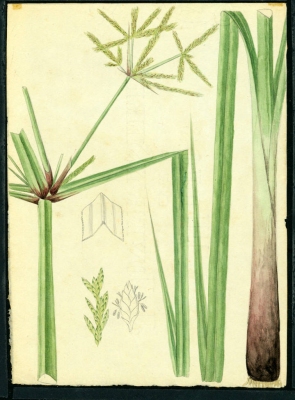 General Information
Cyperus imbricatus is a perennial, grass-like plant producing a cluster of slender to robust culms 50 - 150cm tall from a very short rhizome[
The plant is harvested from the wild for local use in weaving and as a medicine.
Cyperus imbricatus is widely distributed and has no threats. The plant is classified as 'Least Concern' in the IUCN Red List of Threatened Species(2020)[
Known Hazards
None known
Botanical References
Range
Widely spread in tropical and subtropical areas from Africa through Asia to New Guinea, also in the Americas.
Habitat
Swamps, wet rice-fields, on river-banks, and in other open wet places, at low elevations, rarely
ascending to 900 metres[
Properties
| | |
| --- | --- |
| Weed Potential | Yes |
| Conservation Status | Least Concern |
| Medicinal Rating | |
| Other Uses Rating | |
| Habit | Perennial |
| Height | 0.75 m |
| Cultivation Status | Wild |
Cultivation Details
The plant is found in the wild in seasonally flooded areas, margins of ponds, ditches, swamps, river banks, mostly on sandy soil and muddy places[
The plant can become a weed in ricefields[
Edible Uses
We have no specific information for this species, but it is said that the inner base of the young stems of all species in this genus can be eaten raw, and make an excellent survival food in times of need[
Medicinal
The crushed rhizome is used as an aphrodisiac[
Other Uses
The outer portions of the stems are stripped, dried in the shade, and used for weaving mats, mattings, and screens[
Propagation
Seed -
If you have any useful information about this plant, please leave a comment. Comments have to be approved before they are shown here.