Calamus modestus
Arecaceae
Common Name: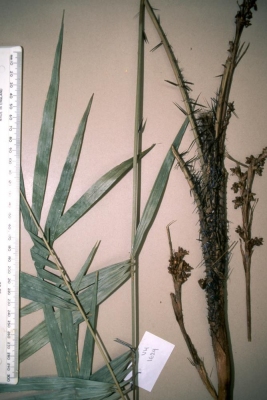 General Information
Calamus modestus is an evergreen, erect palm with stems around 11 - 12mm in diameter and up to 4 metres tall, though often less than 0.5 metres[
The plant is harvested from the wild for local use as a food.
This species is present in the Ngoc Linh (Kon tum) Nature Reserve and the Ba Na-Nui Chua Nature Reserve. The major threats to the ecoregion in which this rattan resides include regular burning to create open woodlands and shifting cultivation (WWF 2001), however, the localities of this species does not appear to be largely affected by these threats. The plant is classified as 'Least Concern' in the IUCN Red List of Threatened Species(2013)[
Known Hazards
None known
Botanical References
Range
Southeast Asia - central Vietnam.
Habitat
Dense evergreen forests on north and northwest facing slopes at elevations from 1,100 - 2,000 metres[
Properties
| | |
| --- | --- |
| Conservation Status | Least Concern |
| Edibility Rating | |
| Habit | Evergreen Shrub |
| Height | 2.00 m |
| Cultivation Status | Wild |
Cultivation Details
Most species in this genus are more or less vigorous climbing plants in rainforests. Leaves of young plants are normally damaged if exposed to too much light, though leaves of older plants will usually tolerate full sun. In general, plants are likely to grow best with their roots in the shade but with enough gap in the canopy to encourage their stems to grow up towards the light. They are also likely to grow best in a humus-rich soil[
Overhead shade should be manipulated at about 6-monthly intervals for the first 2 - 3 years of a young plant's life to ensure they receive sufficient light to grow vigorously. About 40 - 50% light penetration is generally considered to be ideal for promoting stem growth.
Little care is needed once the seedlings are established. It is important, however, to weed the area surrounding the seedlings occasionally until the plants are more than 2 metres tall.
A dioecious species, both male and female forms need to be grown if fruit and seed are required.
Edible Uses
Fresh young leaves[
Although we have no further specific information for this species, many members of this genus have potentially edible young shoots. Indeed, in Laos the shoots are considered to be a delicacy and over half the species growing there are said to be cooked and eaten as a vegetable. The top 100cm of the plant is used. If the leaf sheaths are left in place until just before cooking then the shoot will remain fresh for up to one week[
Medicinal
None known
Other Uses
None known
Propagation
Seed - it has a fairly short viability and is best sown as soon as it is ripe.
If you have any useful information about this plant, please leave a comment. Comments have to be approved before they are shown here.