Calamus leptospadix
Arecaceae
Palmijuncus leptospadix (Griff.) Kuntze
Common Name: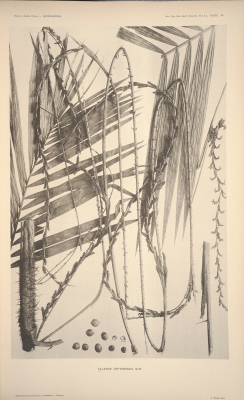 General Information
Calamus leptospadix is a spiny, evergreen, climbing palm producing long, slender, unbranched stems 8 - 10mm in diameter that can climb to the tops of trees in the forest. The long slender stems, when lying on the ground, send out short leafy shoots from their joints and form a thicket of prickly leaves. The flowering extremities of these prostrate stems ascend the trees by the assistance of the strongly barbed straight tendrils springing from the sheaths of the
leaves[
We have conflicting information over whether the stems of this species are used for basketry etc, plus one report that the plant has been experimentally cultivated[
Known Hazards
None known
Botanical References
Range
E. Asia - Nepal, northeast India, Bangladesh, Myanmar.
Habitat
Not known
Properties
| | |
| --- | --- |
| Other Uses Rating | |
| Habit | Evergreen Climber |
| Height | 20.00 m |
| Cultivation Status | Cultivated, Wild |
Cultivation Details
Most species in this genus are more or less vigorous climbing plants in rainforests. Leaves of young plants are normally damaged if exposed to too much light, though leaves of older plants will usually tolerate full sun. In general, plants are likely to grow best with their roots in the shade but with enough gap in the canopy to encourage their stems to grow up towards the light. They are also likely to grow best in a humus-rich soil[
Overhead shade should be manipulated at about 6-monthly intervals for the first 2 - 3 years of a young plant's life to ensure they receive sufficient light to grow vigorously. About 40 - 50% light penetration is generally considered to be ideal for promoting stem growth.
Little care is needed once the seedlings are established. It is important, however, to weed the area surrounding the seedlings occasionally until the plants are more than 2 metres tall.
A dioecious species, both male and female forms need to be grown if fruit and seed are required.
Edible Uses
Although we have no specific information for this species, many members of this genus have potentially edible young shoots. Indeed, in Laos the shoots are considered to be a delicacy and over half the species growing there are said to be cooked and eaten as a vegetable. The top 100cm of the plant is used. If the leaf sheaths are left in place until just before cooking then the shoot will remain fresh for up to one week[
Medicinal
None known
Other Uses
We have rather conflicting information for this species. One report says that the stem, though very long and flexible, is soft and considered useless as a tying material, or for basketry etc[
The long and slender stems of Calamus species are put to various uses according to their size, length, flexibility, elasticity and toughness. The most slender canes are employed entire for binding purposes, and in making chairs, blinds, mats, wicker or basketwork, fishing implements, etc. Twisted together, they make very strong cables. The largest and more resistent canes are used entire as cables, the framework of wicker chairs etc. Usually, however, for many purposes the stems are split throughout their length into 2 - 4 or more strips from which the inner soft brittle and spongy portion is removed by means of a knife or same other instrument, so as to leave the external portion, which is hard, tough, flexible, elastic and has its outer surface very clean and smooth as if it had been varnished[
Strips vary in width according to the use to which they are to be put. Those for delicate work, such as the network of furniture, small bags, hats, etc, are from 1 - 3mm wide; those employed as lashings in native housebuilding or in fastening the removable head of the Malay axe to its handle are from 5-6 mm wide[
Collecting and preparing the stems is very simple. The stem is cut near the ground and detached from the trees by taking a strong hold of its base and thus pulling down the entire plant with its leaves. The most recent growth at the top of the plant is removed and then, handling it from the upper end, the stem is forcibly drawn in the opposite direction between two pieces of wood, thus removing the spiny coverings. It is then cut into lengths of about 5 metres, each piece is bent into two equal parts and the stems are fastened into bundles ready for market. The most valued stems are not thicker than a man's little finger and have a fine polished straw-yellow glassy surface[
Propagation
Seed - it has a fairly short viability and is best sown as soon as it is ripe.
If you have any useful information about this plant, please leave a comment. Comments have to be approved before they are shown here.