Brassica rapa trilocularis
Brassicaceae
This species has been cultivated as a food crop for many hundreds of years and, in that time, several quite distinct forms have arisen. The nomenclature of these forms is confused, to say the least, and by no means universally accepted. We have followed the treatment used by GRIN, though it is very likely to be revised in the future[
Brassica campestris sarson Prain.
Brassica campestris trilocularis (Roxb.) G.Olsson
Brassica napus trilocularis (Roxb.) O.E.Schulz
Brassica rapa sarson (Prain.) Denford.
Brassica trilocularis (Roxb.) Hook.f. & Thomson
Sinapis trilocularis Roxb.
Common Name: Indian Colza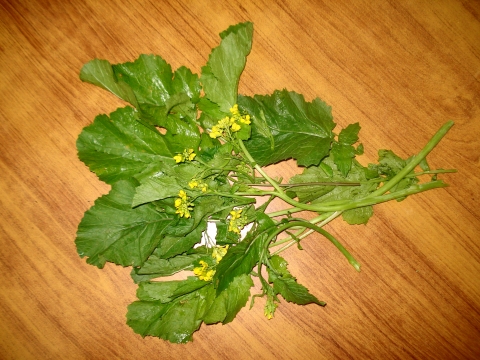 Leaves and flowers, harvested as a vegetable
Photograph by: Miansari66
Creative Commons Zero, Public Domain Dedication


A field of the flowering plant, cultivated as an oil crop
Photograph by: Riskyishwar
Public domain


General Information
Indian colza is an annual to biennial plant, derived in cultivation from Brassica rapa. It grows about 90cm tall.
The plant is cultivated, mainly in India and Nepal, for its oil-rich seeds.
Known Hazards
The oil contained in the seed of some varieties of this species can be rich in erucic acid which is toxic. However, modern cultivars have been selected which are almost free of erucic acid.
Botanical References
Range
A cultivated form of Brassica rapa.
Habitat
Not known in the wild.
Properties
| | |
| --- | --- |
| Edibility Rating | |
| Other Uses Rating | |
| Habit | Biennial |
| Height | 0.90 m |
| Pollinators | Bees |
| Self-fertile | Yes |
| Cultivation Status | Cultivated |
Cultivation Details
Succeeds in full sun in a well-drained fertile preferably alkaline soil[
Edible Uses
Leaves - raw or cooked. Used as a vegetable or fermented and stored for winter use[
An edible oil is obtained from the seeds. It is used for cooking[
Medicinal
None known
Other Uses
The oil from the seed is used for lighting[
The seed husks are used in plastering house walls[
Propagation
Seed - sow in situ
If you have any useful information about this plant, please leave a comment. Comments have to be approved before they are shown here.