Brassica rapa narinosa
Brassicaceae
This species has been cultivated as a food crop for many hundreds of years and, in that time, several quite distinct forms have arisen. The nomenclature of these forms is confused, to say the least, and by no means universally accepted. We have followed the treatment used by GRIN, though it is very likely to be revised in the future[
Brassica campestris narinosa (L.H.Bailey) Kitam.
Brassica narinosa L.H.Bailey
Common Name: Tat Soi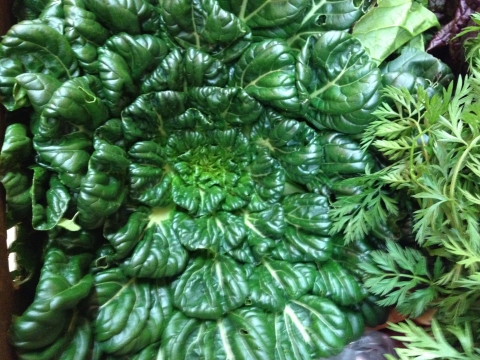 Aerial view of a plant with a dense, open head of leavs
Photograph by: baldeaglebluff


Container-grown plants a few days after a big harvest
Photograph by: david silver


General Information
Tat soi is an annual to biennial plant developed in cultivation from Brassica rapa. Growing from a non-fleshy taproot, it forms a rosette of spreading leaves and, eventually, a flowering stem up to 100cm tall.
Tat soi is often cultivated, especially in the Orient, for its edible leaves.
Known Hazards
The oil contained in the seed of some varieties of this species can be rich in erucic acid which is toxic. However, modern cultivars have been selected which are almost free of erucic acid.
Botanical References
Range
A cultivar of garden origin.
Habitat
Not known in the wild.
Properties
| | |
| --- | --- |
| Edibility Rating | |
| Habit | Biennial |
| Height | 0.20 m |
| Pollinators | Bees, Self |
| Self-fertile | Yes |
| Cultivation Status | Cultivated |
Cultivation Details
Tatsoi has been developed in cultivation in the warm temperate zone of China. It can be grown as an annual from the temperate zone to the tropics and can also be grown in the cold season in the temperate zone, where it can tolerate temperatures down to around -10°c and can even be harvested from under the snow.
Succeeds in full sun in a well-drained fertile preferably alkaline soil[
There are some named varieties.
Edible Uses
Leaves - raw or cooked.
Medicinal
None known
Other Uses
None known
Propagation
Seed - sow in situ
If you have any useful information about this plant, please leave a comment. Comments have to be approved before they are shown here.