Bambusa amahussana
Poaceae
Arundarbor amahussana (Lindl.) Kuntze
Arundarbor lineata Kuntze
Bambusa atra amahussana (Lindl.) Merr.
Bambusa lineata Munro
Bambusa rumphiana Kurz
Leleba amahussana Rumph. ex Schult.
Leleba lineata Rumph. ex Schult.
Leleba rumphiana amahussana (Lindl.) Teijsm. & Binn.
Leleba rumphiana amhussana Kurz
Neololeba amahussana (Lindl.) Widjaja
Common Name: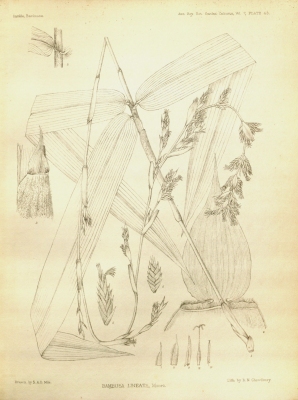 General Information
Bambusa amahussana is an evergreen, clump-forming bamboo. It produces thin-walled canes 2 - 3 metres tall, around 8mm in diameter with internodes 13 - 18cm long. The canes are often reclining[
The plant is harvested from the wild for local use as a tying material.
Known Hazards
None known
Botanical References
Range
Southeast Asia - eastern Indonesia.
Habitat
Lowland areas near the coast[
Properties
| | |
| --- | --- |
| Other Uses Rating | |
| Habit | Bamboo |
| Height | 2.50 m |
| Pollinators | Wind |
| Cultivation Status | Wild |
Cultivation Details
Bamboos have an interesting method of growth. Each plant produces a number of new stems annually - these stems grow to their maximum height in their first year of growth, subsequent growth in the stem being limited to the production of new side branches and leaves. In the case of some mature tropical species the new stem could be as much as 30 metres tall, with daily increases in height of 30cm or more during their peak growth time. This makes them some of the fastest-growing species in the world[
Many bamboo species are monocarpic, living for many years before flowering, then flowering and seeding profusely for a period of 1 - 3 years before usually dying.
Edible Uses
None known
Medicinal
None known
Other Uses
The culm is often used as string or rope[
Propagation
Seed - surface sow in containers as soon as it is ripe, preferably at a temperature around 20°c. Do not allow the compost to dry out. Germination usually takes place fairly quickly so long as the seed is of good quality, though it can take 3 - 6 months. Prick out the seedlings into containers when they are large enough to handle and grow on in a lightly shaded place until large enough to plant out. Plants only flower at intervals of many years and so seed is rarely available.
Division as new growth commences[
Plants can be propagated vegetatively by rhizome, culm and branch cuttings. The propagules are raised in a nursery and after they have produced roots and developed rhizomes they are planted out in the field during the rainy season in pits filled with a mixture of compost and soil[
If you have any useful information about this plant, please leave a comment. Comments have to be approved before they are shown here.