Angostura trifoliata
Rutaceae
Angostura cuspare Roem. & Schult.
Bonnetia trifoliata Walp.
Bonplandia angostura Rich.
Bonplandia angostura Spreng.
Bonplandia candolleana Spreng.
Bonplandia cuneifolia Spreng.
Bonplandia trifoliata Willd.
Cusparia angostura (Rich.) A.Lyons
Cusparia febrifuga Humb. ex DC.
Cusparia officinalis Engl.
Cusparia trifoliata (Willd.) Engl.
Galipea corymbosa Spreng.
Galipea cusparia A.St.-Hil. ex DC.
Galipea febrifuga Baill.
Galipea officinalis J.Hancock
Galipea trifoliate (Willd.) H.Karst.
Portenschlagia trifoliata Pohl ex Engl.
Sciuris officinalis Oken
Common Name: Angostura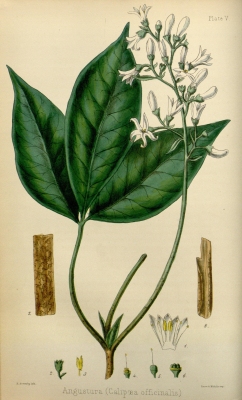 Illustration of the leaves and flowers
Photograph by: The flora homoeopathica; Leath


The bark, dried and stored for medicinal use
Photograph by: Maša Sinreih in Valentina Vivod

General Information
Angostura is an evergreen tree growing 18 - 24 metres tall[
The bark is a very popular treatment for fevers in S. America, where it is said to rival quinine in its effectiveness. It also used to be the basis of a well-known bitter tonic, Angustura bitters, though gentian root is now used in its place.
Known Hazards
The bark is bruised and used to intoxicate fish.
Botanical References
Range
S. America - Brazil, Venezuela.
Habitat
Forests[
Properties
| | |
| --- | --- |
| Edibility Rating | |
| Medicinal Rating | |
| Habit | Evergreen Tree |
| Height | 20.00 m |
| Cultivation Status | Wild |
Cultivation Details
Not known
Edible Uses
An extract of the bark is used to flavour various foods including bitter tonics, baked goods, candy, ice cream etc[
The bark is the original flavouring for 'Angostura Bitters', which is now made using bitter orange peel, gentian and other herbs and spices[
Medicinal
The greyish yellow, resinous, brittle bark is acrid, antidysenteric, bitter, digestive, febrifuge, stimulant and tonic[
The bark contains several active compounds including an essential oil and the alkaloids cusparine and galipine. These alkaloids have been shown to have antispasmodic activity.
Other Uses
None known
Propagation
Seed -
If you have any useful information about this plant, please leave a comment. Comments have to be approved before they are shown here.