Aloe flexilifolia
Asphodelaceae
Common Name: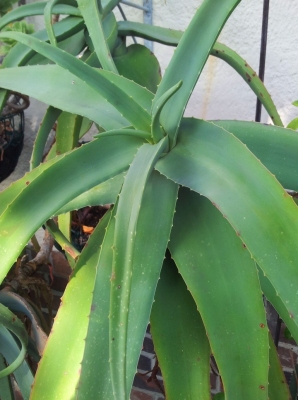 General Information
Aloe flexilifolia is a sprawling, much-branched, evergreen, succulent shrub growing up to 2 metre tall. The leaves are laxly crowded at top of branches, hanging down; they are up to 50cm long and 7cm wide at their base[
The plant is harvested from the wild for local medicinal use.
The plant has a very small extent of occurrence, being known from just a single location, and there is continuing decline due to the impacts of collectors for medicinal and ornamental purposes. It is classified as 'Critically Endangered' in the IUCN Red List of Threatened Species(2011)[
Known Hazards
The sap of Aloe species contains anthraquinones. These compounds have several beneficial medicinal actions, particularly as a laxative, and many species of Aloe are thus employed in traditional medicine. Whilst safe in small doses and for short periods of time, anthraquinones do have potential problems if used in excess. These include congestion and irritation of the pelvic organs[
Botanical References
Range
Tropical east Africa - northeast Tanzania.
Habitat
Rocky slopes and cliff faces at elevations from 1,000 - 1,250 metres[
Properties
| | |
| --- | --- |
| Conservation Status | Critically Endangered |
| Medicinal Rating | |
| Habit | Evergreen Shrub |
| Height | 1.50 m |
| Pollinators | Insects |
| Cultivation Status | Wild |
Cultivation Details
Aloe species follow the Crassulacean acid metabolism (CAM). CAM plants can fix carbon dioxide at night and photosynthesize with closed stomata during the day, thus minimizing water loss. This, plus their succulent leaves and stems, and the presence of a thick cuticle, makes them well adapted to dry conditions[
Edible Uses
None known
Medicinal
Sap from the crushed roots and leaves is used to reduce swelling of the testicles and scrotum[
The distinctive constituents in Aloe spp are phenolic compounds, notably chromone, anthraquinone or anthrone derivatives. The exudate of Aloe flexilifolia is known to be caustic, and is rich in aloin. Aloin is the main active ingredient in Aloes and has purgative properties. Other compounds of interest for their medicinal activity in this and other Aloe species are the polysaccharides contained in the gel from the core of the leaves, and lectins found in several plant parts[
Other Uses
None known
Propagation
Seed - we have no specific information on this species - in general Aloes are sown in a sandy, well-drained potting soil in a warm, shady position in standard seed trays. Germination takes about three weeks. Cover the seed with a thin layer of sand (1 - 2mm), keep moist. The seedlings can be planted out in individual bags or containers as soon as they are large enough to handle[
Stem cuttings
Suckers
If you have any useful information about this plant, please leave a comment. Comments have to be approved before they are shown here.