Alocasia cucullata
Araceae
Alocasia rugosa Schott
Arum cucullata Lour.
Caladium cucullata Pers.
Colocasia cucullata Schott
Colocasia rugosa Kunth
Common Name: Chinese Taro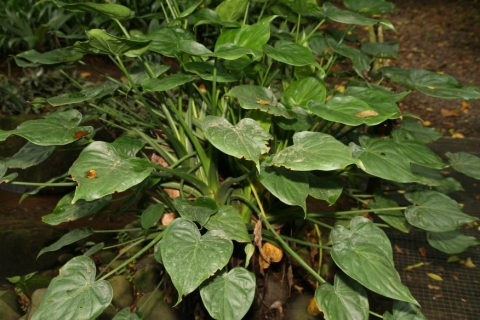 Cultivated plant in the Else Kientzler Botanical Garden, Sarchi Norte, Costa Rica
Photograph by: David Stang


Close-up of the leaf
Photograph by: David Stang

General Information
Alocasia cucullata is an evergreen herbaceous plant with large leaves that can be 40cm long[
The plant is occasionally used locally as a food source and medicine[
Known Hazards
All parts of the plant contain calcium oxalate crystals. This substance is toxic fresh and, if eaten, makes the mouth, tongue and throat feel as if hundreds of small needles are digging in to them. However, calcium oxalate is easily broken down either by thoroughly cooking the plant or by fully drying it and, in either of these states, it is safe to eat the plant. People with a tendency to rheumatism, arthritis, gout, kidney stones and hyperacidity should take especial caution if including this plant in their diet[
Botanical References
Range
E. Asia - southern China, India, Sri Lanka, Myanmar, Thailand.
Habitat
Watersides, by fields, wild or cultivated at elevations below 2,000 metres in southern China[
Properties
| | |
| --- | --- |
| Edibility Rating | |
| Medicinal Rating | |
| Habit | Evergreen Perennial |
| Height | 1.00 m |
| Cultivation Status | Ornamental, Wild |
Cultivation Details
Prefers a well-drained, humus-rich soil and a position in semi-shade.
Like many species in the family Araceae, this plant has the ability to heat the flowering spadix as the pollen becomes ready for fertilization. This heat greatly increases the strength of the aroma released by the plant, thus attracting more pollinating insects. It can also have the effect of making the insects more active, thus increasing the level of fertilization[
Edible Uses
The corms are eaten in parts of India[
Medicinal
The plants are used externally for treatment of detoxification of viper bites, abscesses, rheumatism and arthritis[
Other Uses
None known
Propagation
Seed - best sown as soon as it is ripe. Germinates best at 24c.
Division of the rootstock as the plant is coming into growth.
If you have any useful information about this plant, please leave a comment. Comments have to be approved before they are shown here.