Albizia inundata
Fabaceae
Acacia inundata Mart.
Acacia multiflora Spreng.
Acacia polyantha A.Spreng.
Albizia polyantha (A.Spreng.) G.P.Lewis
Arthrosamanea polyantha (A. Spreng.) C. Sprengel
Arthrosamanea polyantha (A.Spreng.) Burkart
Arthrosamanea polycephala (Griseb.) Burkart
Cathormion polyanthum (A.Spreng.) Burkart
Cathormion polycephalum Burkart
Enterolobium polycephalum Griseb.
Feuilleea polycephala (Griseb.) Kuntze
Pithecellobium multiflorum brevipeduncul Chodat & Hassl.
Pithecellobium pendulum Lindm.
Common Name: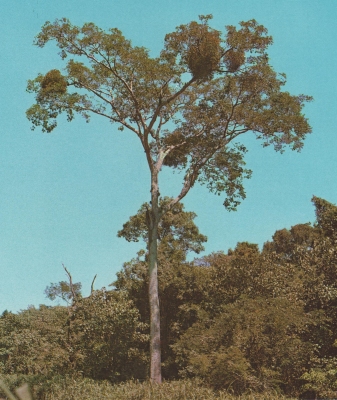 Fruiting branch
Photograph by: Lidia Perez de Molas

General Information
Albizia inundata is a deciduous shrub or small tree with a sparse, roundish crown, growing 5 - 8 metres tall. The bole is more or less straight and cylindrical, it can be 30 - 50cm in diameter[
The tree is sometimes harvested from the wild for local use of its wood. It has potential for use in reforestation projects.
Known Hazards
None known
Botanical References
Range
S. America - Argentina, Uruguay, Paraguay, central, eastern and northern Brazil, Bolivia.
Habitat
Forests by rivers or in alluvial valleys that can be seasonally inundated, often in secondary growth areas[
Properties
| | |
| --- | --- |
| Other Uses Rating | |
| Habit | Deciduous Tree |
| Height | 6.00 m |
| Growth Rate | Fast |
| Cultivation Status | Wild |
Cultivation Details
Grows best in a sunny position[
A fast-growing tree[
This species has a symbiotic relationship with certain soil bacteria, these bacteria form nodules on the roots and fix atmospheric nitrogen. Some of this nitrogen is utilized by the growing plant but some can also be used by other plants growing nearby[
Edible Uses
None known
Medicinal
None known
Agroforestry Uses:
A natural pioneer species within its native range, the tree can be used in reforestation projects to restore native woodland, especially in areas subject to seasonal inundation[
Other Uses
The wood is of medium texture, straight grained, moderately heavy, with poor mechanical properties and moderately durable. It is used locally for purposes such as internal works in general construction, light cabinet making, ceilings, boards, boxes etc[
The wood is used for fuel[
Propagation
Seed - best sown as soon as it is ripe and still moist, in a sunny position in a nursery seedbed. When stored, the seed soon develops a hard seedcoat and may benefit from scarification before sowing to speed up germination. This can usually be done by pouring a small amount of nearly boiling water on the seeds (being careful not to cook them!) and then soaking them for 12 - 24 hours in warm water. By this time they should have imbibed moisture and swollen - if they have not, then carefully make a nick in the seedcoat (being careful not to damage the embryo) and soak for a further 12 hours before sowing. Fresh or treated seed can germinate within 1 - 2 weeks, with a high percentage of the seed sprouting[
If you have any useful information about this plant, please leave a comment. Comments have to be approved before they are shown here.