Abutilon purpurascens
Malvaceae
There have been several studies into the taxonomy of this and other related species (2016). It is almost as if each one has arrived at a new conclusion and renamed the plant accordingly. The online 'Flora do Brasil' treats this species as Abutilon purpurascens (Link) K.Schum. However, in some treatments that species has been merged with Abutilon esculentum A.St.-Hil as Abutilon esculentum. Then this section of the genus Abutilon was moved to the genus Bakeridesia, with this species becoming Bakeridesia esculenta (A.St.-Hil.) Monteiro. In 2012, Aliya A. Donnell in 'A Systematic Revision of Bakeridesia Hochr. (Malvaceae)' has proposed moving the species to the genus Callianthe, though a valid new name was not published. At the present (2016), we are retaining the name Abutilon purpurascens until we see evidence that the new names are being accepted[
Abutilon carneum A.St.-Hil.
Abutilon esculentum A.St.-Hil.
Abutilon speciosum (Willd. ex Spreng.) G.Don
Abutilon virens A.St.-Hil. & Naudin
Bakeridesia esculenta (A.St.-Hil.) Monteiro
Bakeridesia purpurascens (Link) Monteiro
Sida esculenta Steud.
Sida hilaireana Steud.
Sida purpurascens Link
Sida rosea Link & Otto
Sida speciosa Willd. ex Spreng.
Sida triflora Vell.
Common Name: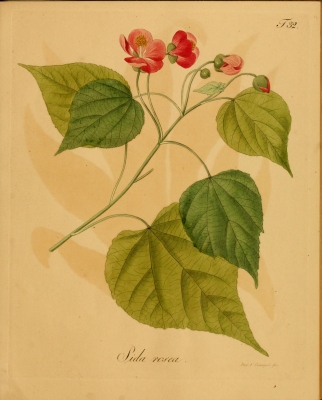 General Information
Abutilon purpurascens is an evergreen shrub growing about 2.4 metres tall.
The edible flowers are sometimes gathered from the wild and used locally.
Known Hazards
None known
Botanical References
Range
S. America - eastern Brazil.
Habitat
Not known
Properties
| | |
| --- | --- |
| Edibility Rating | |
| Habit | Evergreen Shrub |
| Height | 2.40 m |
| Pollinators | Insects |
| Cultivation Status | Wild |
Cultivation Details
Requires full sun or part day shade and a fertile well-drained soil[
Plants in this genus are notably resistant to honey fungus[
Edible Uses
Flowers - cooked. Used as a vegetable[
Medicinal
None known
Other Uses
None known
Propagation
Seed - germinates in 3 - 4 weeks at 15°c[
Cuttings of young shoots. Very easy, they root quickly[
Cuttings of half-ripe wood[
Cuttings of mature wood.
If you have any useful information about this plant, please leave a comment. Comments have to be approved before they are shown here.