Neorautanenia mitis
Fabaceae
Cacara orbicularis (Welw. ex Baker) Hiern
Dolichos ellenbeckii Harms
Dolichos mitis A.Rich.
Dolichos orbicularis (Welw. ex Baker) Baker f.
Dolichos pseudopachyrhizus Harms
Dolichos seineri Harms
Neorautanenia amboensis Schinz
Neorautanenia edulis C.A.Sm.
Neorautanenia orbicularis (Welw. ex Baker) Torre
Neorautanenia pseudopachyrhiza (Harms) Milne-Redh.
Neorautanenia seineri (Harms) C.A.Sm.
Pachyrhizus orbicularis Welw. ex Baker
Pueraria hochstetteri Chiov.
Common Name: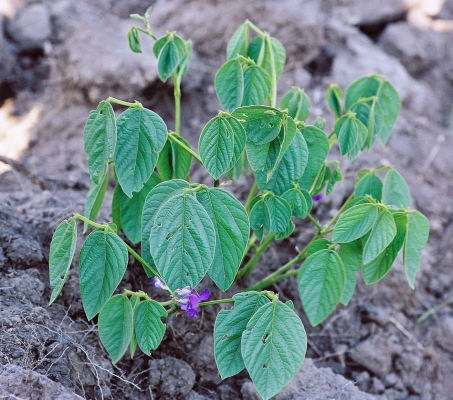 Small flowering plant
Photograph by: Scamperdale


Root and new growth
Photograph by: Scamperdale


Flowers
Photograph by: Scamperdale

General Information
Neorautanenia mitis is a very variable, subshrubby herb, producing stems 2 metres or more long that can be erect, climbing, scrambling or entirely prostrate, from a tuberous rootstock[
The plant is harvested from the wild and used as an insecticide.
Known Hazards
The roots contain saponins and have been used as a fish poison[
Although poisonous, saponins are poorly absorbed by the human body and so most pass through without harm. Saponins are quite bitter and can be found in many common foods such as some beans. They can be removed by carefully leaching in running water. Thorough cooking, and perhaps changing the cooking water once, will also normally remove most of them. However, it is not advisable to eat large quantities of raw foods that contain saponins. Saponins are much more toxic to some creatures, such as fish, and hunting tribes have traditionally put large quantities of them in streams, lakes etc in order to stupefy or kill the fish[
Botanical References
Range
Tropical Africa - Cote D'Ivoire to Somalia, south to Namibia, northern S. Africa and Mozambique.
Habitat
Drier areas of Africa, in grassland, bushland and open woodland, often in rocky places[
Properties
| | |
| --- | --- |
| Other Uses Rating | |
| Habit | Perennial |
| Height | 2.00 m |
| Cultivation Status | Wild |
Cultivation Details
A plant of drier tropical areas.
Requires a well-drained soil and a position in full sun[
This species has a symbiotic relationship with certain soil bacteria; these bacteria form nodules on the roots and fix atmospheric nitrogen. Some of this nitrogen is utilized by the growing plant but some can also be used by other plants growing nearby[
Edible Uses
None known
Medicinal
None known
Other Uses
The leaves and roots are used as an insecticide[
A decoction of the tuberous roots has been used for removing ticks :from sheep and goats.[
Propagation
Seed -
Cuttings.
If you have any useful information about this plant, please leave a comment. Comments have to be approved before they are shown here.