Melilotus elegans
Fabaceae
Melilotus abyssinica Baker
Common Name: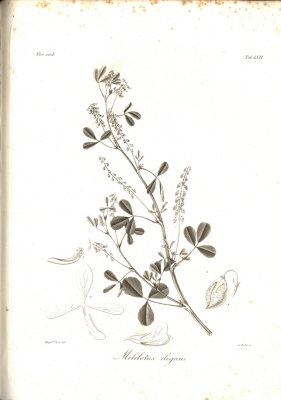 General Information
Melilotus elegans is an erect, branched, annual plant growing 30 - 150cm tall.
The leaves are sometimes eaten.
Known Hazards
The plant contains coumarin, a substance produced by the plant because it acts as an appetite suppressant and gives some protection from grazing - it is also the compound that gives some dried plants the smell of new mown hay. Coumarin is found naturally in many fruits, including strawberries, black currants, apricots, and cherries; it also has some medicinal applications, though it is also known to be toxic, affecting especially the liver and kidneys. Coumarin is of relatively low toxicity to humans – indeed it has often been used as a flavouring and aromatic additive in foods and other commodities. However, it can be much more toxic to other species, especially rodents and specifically rats.
The fresh plant material, consumed in moderation, is generally safe. However, the dried plant material, especially if it is not dried properly and is invaded by fungi, is potentially much more toxic as the coumarin breaks down to form other compounds that can have a strongly anticoagulant effect upon the blood. Warfarin, a well-known anticoagulant drug and rat poison, is one of those compounds produced from coumarin.
Botanical References
Range
Mediterranean Europe and N. Africa to Ethiopia.
Habitat
Grassland, especially by the sea in the Mediterranean[
Properties
| | |
| --- | --- |
| Edibility Rating | |
| Other Uses Rating | |
| Habit | Annual |
| Height | 1.00 m |
| Pollinators | Bees |
| Cultivation Status | Wild |
Cultivation Details
A plant mainly of the Mediterranean region, extending into higher elevations in tropical Ethiopia.
Dislikes shade.
This species has a symbiotic relationship with certain soil bacteria, these bacteria form nodules on the roots and fix atmospheric nitrogen. Some of this nitrogen is utilized by the growing plant but some can also be used by other plants growing nearby[
Edible Uses
Leaves - cooked[
Medicinal
None known
Other Uses
The herb is sometimes used in hair pomades[
Propagation
Seed - sow in situ[
If you have any useful information about this plant, please leave a comment. Comments have to be approved before they are shown here.