Magnolia splendens
Magnoliaceae
Results of DNA analysis in various studies (see, for example, R.B. Figlar & H.P. Nooteboom, Blumea 49: 87-100. 2004) have supported the concept that the various genera comprising the subfamily Magnolioideae would be more consistently treated as a single genus, Magnolia. This is the treatment followed here, though it is still not universally accepted[
Dugandiodendron splendens (Urb.) Sima & S.G.Lu
Talauma splendens (Urb.) McLaughlin
Common Name: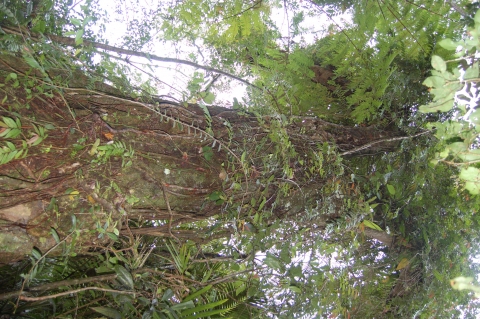 General Information
Magnolia splendens is an evergreen tree with a narrow crown; it can grow up to 23 metres tall. The bole can be 120cm or more in diameter[
The tree yields an attractive and high quality timber and is widely harvested from the wild for local use. It is possibly suitable as an ornamental[
This species has not been evaluated in the IUCN Red List of Threatened Species. However, it is only found in the mountains of Porto Rico, growing in a forest where the growth rate is very slow. The larger trees of the forest are undoubtedly many centuries old. This, plus the fact that propagation for planting elsewhere is difficult because most seeds apparently are sterile, greatly limits the future of this tree. The species will always be preserved within a formally established natural area within the Luquillo Forest, and young trees are being encouraged wherever they appear naturally. Nevertheless, in most areas the old overmature trees are being cut down more rapidly than they are being replaced by nature[
Known Hazards
None known
Botanical References
Range
Caribbean - Puerto Rico.
Habitat
Not known
Properties
| | |
| --- | --- |
| Other Uses Rating | |
| Habit | Evergreen Tree |
| Height | 18.00 m |
| Growth Rate | Slow |
| Cultivation Status | Ornamental, Wild |
Cultivation Details
The dark green foliage has a spicy aroma[
Laurel sabino is native to an area where tree growth is so slow that production of the timber is not economical. The average trunk diameter growth rate of 46 trees in the natural forest during a 5-year period was only 1.5mm per year[
Edible Uses
The leaves are used as a flavouring in food in much the same way as bay leaves (Laurus nobilis)[
Medicinal
None known
Other Uses
The heartwood is a very attractive olive green when freshly cut, later becoming brown - growth rings and dark streaks add to the figure; it is demarcated from the whitish sapwood. The wood is moderately heavy; hard; moderately strong; with a characteristic spicy pungent odour. It is easy to work, but susceptible to attack by dry-wood termites. Rate of air-seasoning is rapid, and amount of degrade is minor. Planing and sanding are fair; shaping, turning, boring, mortising, and resistance to screw splitting all are good. The wood is used almost entirely for furniture and cabinetwork. Local demand is greater than the limited supply. Other suitable uses are for veneer, plywood, millwork, turning, boat planking, construction, and carpentry[
Propagation
Seed -
If you have any useful information about this plant, please leave a comment. Comments have to be approved before they are shown here.