Lithocarpus javensis
Fagaceae
Cyclobalanus costata (Blume) Oerst.
Cyclobalanus javensis (Blume) Oerst.
Lithocarpus costatus (Blume) Rehder
Lithocarpus scutigera Oudem.
Pasania costata (Blume) Gamble
Pasania javensis (Blume) Prantl
Quercus costata Blume
Quercus javensis (Blume) Miq.
Synaedrys costata (Blume) Koidz.
Synaedrys javensis (Blume) Koidz.
Common Name: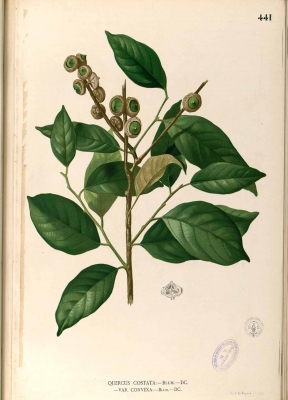 Drawing of the leaves and seeds
Photograph by: Blanco, M., Flora de Filipinas, t. 441 (1875) [xxx]


Drawing of the leaves, flowers and seed, including the var convexa
Photograph by: Annals of the Royal Botanic Garden, Calcutta, vol. 2: t. 76 (1889) [A.L. Singh]

General Information
Lithocarpus javensis is an evergreen tree growing 20 - 50 metres tall[
The tree is harvested from the wild for its timber.
Known Hazards
None known
Botanical References
Range
Southeast Asia - Malaysia, Indonesia.
Habitat
Forests at elevations up to 1,800 metres[
Properties
| | |
| --- | --- |
| Edibility Rating | |
| Other Uses Rating | |
| Habit | Evergreen Tree |
| Height | 35.00 m |
| Pollinators | Wind |
| Cultivation Status | Wild |
Cultivation Details
Lithocarpus javensis is a plant of the moist tropics, where it is found at elevations up to 1,800 metres[
Young plants usually grow sucessfully in the shade of woodland, but older trees like a more sunny position. Lithocarpus species are mainly found in well-drained soils, often growing on slopes; they tend to be tolerant of a range of soil textures and to prefer an acid to neutral pH.
Edible Uses
The depressed ovoid-globose seed is 30 - 40mm long and 35 - 50mm wide with a thick, woody shell[
Although we have no specific information for this species, the seeds of all the species of Lithocarpus are more or less edible and most if not all of them will have been used for food in times of shortage, when better foods were not available.
The seed is usually cooked before eating, though it can also be eaten raw. It can be eaten whole, though it is more commonly dried, then ground into a powder and used as a thickening in stews etc or mixed with cereals for making bread.
The main disadvantage of the seed is that it is often rich in tannins, making it bitter and astringent. These tannins can be largely removed by soaking the seeds in water then throwing the water away. The process should be repeated until the seed no longer tastes bitter.
Medicinal
None known
Other Uses
The bark of most species is rich in tannins and can be used as a dye and preservative for ropes etc[
The red-brown wood is used for building purposes[
No further information is given, but the following is a general description of Lithocarpus timber from trees growing in southeast Asia:-
The heartwood is yellow-brown, red-brown or dark red-brown; it is not always clearly demarcated from the lighter-coloured sapwood. The texture is rather coarse and uneven; the grain fairly straight but sometimes interlocked; there is a true oak-line silver figure prominent on the radial surface. The wood is strong to very strong; hard to very hard; moderately heavy to heavy; moderately durable and very difficult to treat. It seasons fairly slowly, without any defects except for some staining, slight bowing and end-checking; shrinkage is high. It is easy to saw when green, but slightly difficult to work when dried; planing is easy and the planed surface is smooth; turned wood has a rough surface when finished. Nailing properties are poor.
A medium hardwood, it is suitable for medium to heavy construction under cover, furniture making, interior finishing, panelling, parquet flooring etc[
The wood makes a good fuel and can be used to make charcoal[
Propagation
Seed - it quickly loses viability if it is allowed to dry out. It can be stored moist and cool, but is best sown as soon as it is ripe in an outdoor seed bed, though it must be protected from mice, squirrels etc. Small quantities of seed can be sown in deep pots in a cold frame. Plants produce a deep taproot and need to be planted out into their permanent positions as soon as possible, in fact seed sown in situ will produce the best trees[
If you have any useful information about this plant, please leave a comment. Comments have to be approved before they are shown here.