Lindernia micrantha
Linderniaceae
A recent study in the family Linderniaceae - Fischer E.; Schäferhoff B. & Müller K.: The Phylogeny of Linderniaceae - The New Genus Linderniella, and new combinations within Bonnaya, Craterostigma, Lindernia, Micranthemum, Torenia and Vandellia. Willdenowia 43: 209 - 238. December 2013. ISSN 0511-9618 - has proposed moving several genera from Scrophulariaceae into Lindernia; resurrecting the genera Bonnaya and Vandellia from within Lindernia; and describes a new genus Linderniella. These changes have not yet been accepted - if they do then this species will become Vandellia micrantha (D.Don) Eb.Fisch., Schäferh. & Kai Müll.
Lindernia angustifolia (Benth.) Wettst.
Vandellia angustifolia Benth.
Vandellia micrantha (D.Don) Eb.Fisch., Schäferh. & Kai Müll.
Common Name: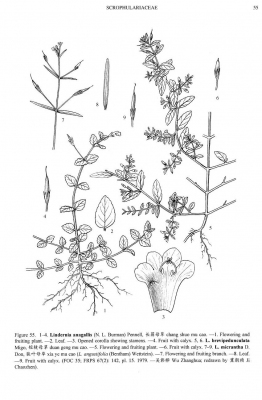 General Information
Lindernia micrantha is a usually erect, annual plant growing up to 40cm tall from a fibrous rootstock. The stem can be few to much-branched[
The plant is harvested from the wild for local use as a condiment - it is sold for this purpose in local markets in Laos[
In spite of its apparent extinction in Bangladesh, the species has a very wide distribution through much of southeast Asia, it is also capable of exploiting anthropogenic habitats. The plant is classified as 'Least Concern' in the IUCN Red List of Threatened Species(2013)[
Known Hazards
None known
Botanical References
Range
E. Asia - China, Japan, Korea, India, Sri Lanka, Nepal, Myanmar, Thailand, Cambodia, Laos, Vietnam, Indonesia.
Habitat
Rice fields, along rivers, wet areas; at elevations around 1,500 metres[
Properties
| | |
| --- | --- |
| Conservation Status | Least Concern |
| Edibility Rating | |
| Medicinal Rating | |
| Habit | Annual |
| Height | 0.30 m |
| Cultivation Status | Wild |
Cultivation Details
Not known
Edible Uses
The plant is used as a condiment[
Medicinal
Most Lindernia species are very bitter and many are used medicinally. This is one of several species that are often used more or less interchangeably.to treat dysentery and other intestinal problems[
The aerial parts are widely used in poultices for relieving boils, sores and itches[
Other Uses
None known
Propagation
Seed -
If you have any useful information about this plant, please leave a comment. Comments have to be approved before they are shown here.